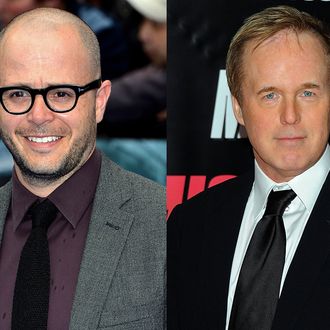 Damon Lindelof and Brad Bird
Photo: Getty Images
Correction by Claude Brodesser-Akner: Apparently I misunderstood my source for this story, who contacted me after it was posted to clarify that while it is true that 1952 is very much in the spirit of Close Encounters (and centers around a Roy Neary-like protagonist), it is not in fact about an alien encounter. My apologies for the erroneous plot description.
In June of 2011, word came that Lost's Damon Lindelof had signed a seven-figure deal with Disney to write an original sci-fi blockbuster with EW's Jeff Jensen called 1952, but no other details about his mysterious project were released. This veil of secrecy persisted even into this summer, when word came that Ghost Protocol director Brad Bird had come aboard to direct and co-write the film. But now Vulture has uncovered some details: It will be set largely in the present day and it is about aliens making contact here on Earth. Our spies tell us that Bird and Lindelof want to recapture the spirit of 1977's Close Encounters of the Third Kind, right down to centering it around a man in his late forties, à la Richard Dreyfuss's Roy Neary.
While our sources maintain that the film is not set in 1952, there is an intriguing backstory to the title. We hear that last spring, when Lindelof had a meeting to discuss the project with Disney's head of production, Sean Bailey, the Disney exec arranged for Lindelof to be given access to one of the studios odder curiosities: a banker's box of files and documents that had been left moldering in Walt Disney's personal development lab, WED Enterprises, which later became the studio's vaunted Imagineering department. The box was originally labeled with the title of the studio's 1965 comedy That Darn Cat!, which had been crossed out and in its place was written "1952." Inside was a random-at-first-glance collection of documents and primary source materials that, when looked at all together, indicated that someone had been working on a project (movie? theme park ride?) about alien contact.
It's unclear whether or how the box has inspired the development of the project. Though we hear the film will not be set in 1952, that was the year of the infamous "Washington flap," wherein what seemed to be seven UFOs appeared on radar at National Airport.
We hear that the collaborators are planning an elaborate, very J.J. Abrams–like advanced marketing campaign that will start before filming even begins. The idea is to stage a treasure hunt for intrigued moviegoers that will gradually reveal clues about and build intrigue for the film right up until its release, and which may or may not be related to the contents of the box. Let's just hope that this isn't all an elaborate ruse setting us up for That Darn Cat 2.
Lindelof and Bailey will be holding a Q&A today at 9 a.m. West Coast time at Hollywood's StoryWorld conference, so perhaps they will tease more information then.