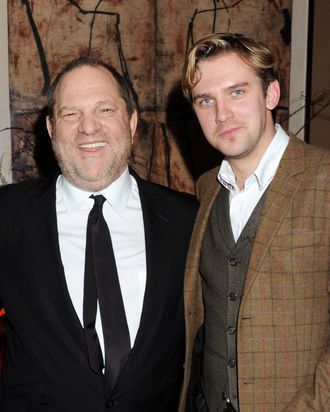 LONDON, ENGLAND - DECEMBER 11:Harvey Weinstein (L) and actor Dan Stevens attend a VIP Screening of 'The Artist' hosted by the Weinstein Company at Charlotte Street Hotel on December 11, 2011 in London, England.
Photo: Dave M. Benett/Getty Images
When reading the following sentences, it's important to remember that yearly television negotiations always involve baseless worry and also that the Daily Mail is not the most reliable trade publication. But in the interest of emotional preparedness, here is the relevant quote from Dan Stevens: "I don't know if I will be returning to Downton." Anyone who has heard about season three can't really blame him, but still: Matthew, no. We'll never let go, Matthew.