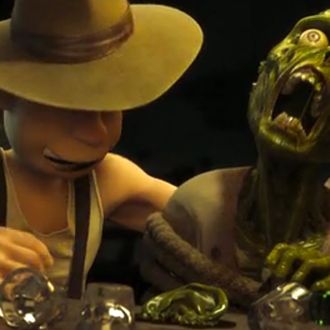 A still from The Goon.
Photo: Blur Studio
Following in the footsteps of Charlie Kaufman and Dan Harmon, David Fincher is hoping to use Kickstarter to help fund an animated project of his — a feature-length adaption of the popular graphic novel The Goon. Created by Eric Powell, The Goon is a violent and comedic book about a goon and his righthand man fighting zombies, ghouls, mutants, mobsters, giant squids, aliens, and the like. They have been trying to get the film made for a while now but have consistently been met with resistance from Hollywood. (Suffice it to say, this wouldn't be a family-friendly animated film.)
As producer, Fincher (along with directors Tim Miller and Jeff Fowler) is asking for $400,000, which would cover just the story reel — an edit of the storyboards set to music and sound effects. There won't be full animation, but at least we'll get to hear Paul Giamatti's sweet, sweet voice. They've raised about $13,000 so far, so if you have an extra $387,000 lying around, there is at least one very well-known director who'd like to be your best friend.