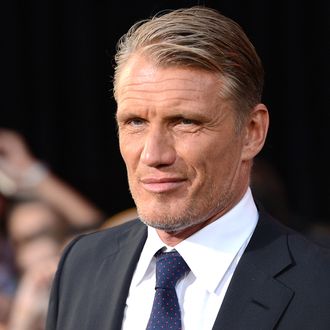 Actor Dolph Lundgren arrives at Lionsgate Films' 'The Expendables 2' premiere on August 15, 2012 in Hollywood, California.
Photo: Jason Merritt/Getty Images
The Dolph Lundgren TV show the nineties neglected to deliver is (finally?) coming into existence. Lundgren is set to star in Rescue 3, an hour-long drama set in southern California about lifeguards, firefighters, and members of the Coast Guard; he'll play the "reluctant hero," according to THR. The show will air on Tribune stations, so that image you have in your head of a Baywatch-esque series with Xena-like distribution is probably accurate. Accurate and delightful.