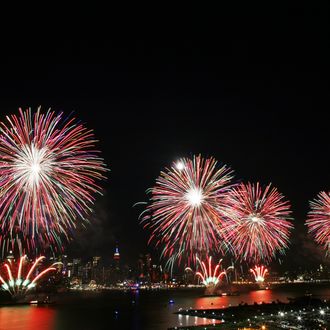 The New York City skyline is seen in the distance as fireworks explode over the Hudson River during the Macy's fireworks display July 4, 2009 in Weehawken, New Jersey. It was the first time since 2000 that the Macy's display took place over the Hudson River and not the East River.
Photo: Yana Paskova/Getty Images
Lawyers for William Faulkner's literary estate have been busy. A day after suing Sony over a line in Woody Allen's Midnight in Paris film — adapted, they claim, from Faulkner's Requiem for a Nun — they've filed suit against defense contractor Northrop Grumman over the company's new full-page ad in the Washington Post. (The paper's parent company is also named in the lawsuit.) The ad in question, which was a celebration of Independence Day, included the line, "We must be free not because we claim freedom, but because we practice it." Though the ad did attribute the quote to a 1956 essay Faulkner wrote for Harper's magazine, his estate says its presence in the ad was commercial appropriation, and therefore not fair use.