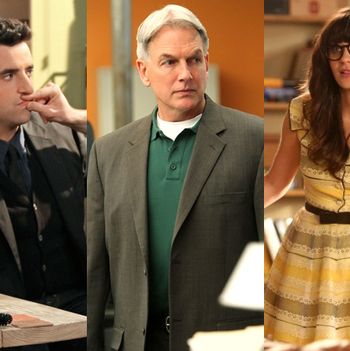 Congratulations, fellow TV viewers: We've survived another premiere week! The networks threw all manner of new shows our way and forced us to fill our DVRs to bursting with returning favorites. It seems only fair that we repay their kindness by rushing to judgement about how their new lineups fared out of the gate, from the obvious winners to the Romney-esque losers. Yes, yes: One week does not a season make, particularly in an era when shows debut year-round and many viewers watch shows on their own damn schedules. But that caveat aside, we still think there are some early lessons to be drawn from the early days of the new season.
It's more important than ever to pay attention to time-shifted viewing.
As the overnight ratings dribbled out during premiere week, it was easy to take a look at the numbers in some time period and wonder where the hell all the viewers went. But then Nielsen started releasing DVR data showing many shows getting even bigger-than-usual lifts once three days' worth of viewing was factored in (the so-called "L+3" numbers). Fox's New Girl, for example, saw its under-50 audience grow 35 percent versus its same-day figure; last year, it gained just 25 percent from L+3. Based on overnights, NBC's The New Normal looked as if it had lost almost 25 percent of its Go On lead-in. But when you compared the L+3 numbers for both shows, it turns out Normal declined a much more, well, normal 15 percent. That's because Normal had nearly twice as big of a DVR gain than Go On. Indeed, internal research from one network provided to Vulture shows that, for the first three days of premiere week, network shows went up an average of 25 percent in adults under 50; a year ago, the lift was just over 19 percent. If some of this sounds like spin, well, it is: There's no doubt some networks will try to use DVR data as a shiny object to distract attention from declining ratings for older shows or to make disappointing newbies appear bigger than they are. But it's also true that we're not watching TV the way we used to and that time-shifting is becoming, if we might use the obvious pun, the New Normal. When speaking in private, network suits historically have been quick to render snap judgments on the fates of both their own shows and those of rivals. This season, they're showing more patience, and many more are echoing what one suit told Vulture Monday: "We've got more and more data, and I want to see it all."
NBC has emerged from the Dark Ages.
The Peacock turnaround is nowhere near complete, but there are signs of an uptick. The Voice has made NBC a player on Mondays and Tuesdays (even if the network is very likely burning out the show by overusing it, the way ABC wrecked Who Wants to Be a Millionaire). And the bump from The Voice has allowed NBC's scripted newcomers to more than hold their own, at least early on this season. Monday's Revolution is taking full advantage of its sizable lead-in and is proving to be a juggernaut in time-shifted viewing (increasing its audience by roughly 40 percent via DVR). Matthew Perry is still a big enough star to get folks to sample Tuesday's Go On (again, The Voice is helping), and The New Normal is holding on after it at 9:30 p.m. Even Fridays are doing okay, with Grimm doing better on Fridays than some of NBC's Thursday comedies. There's no guarantee all, or even most, of these positive developments will hold up as we move deeper into fall. The Voice has a history of fading in the stretch, and we're still anxious to see if Revolution can pull off its tricky premise. Oh, and Thursday nights are nothing short of a disaster, with even the once-reliable The Office barely showing a pulse. But compared to where NBC has been at the start of recent fall seasons, 2012-13 is showing promise.
Fox is off to a rocky start.
When you're TV's number-one network (as Fox is among viewers under 50), the bar for success is high and all stumbles are magnified. This fall, the danger signs are all over the schedule for Fox. On Mondays, The Mob Doctor simply didn't connect with audiences, while Bones is no House at 8 p.m. Moving Glee off of Tuesdays and launching four comedies on the night was always going to be a challenge, and last week's numbers simply underscored that reality: New Girl, while solid, isn't the monster hit Fox thought it had, while newcomers Ben and Kate and The Mindy Project did okay but showed no signs of breaking out with their debuts. On Wednesdays and Thursdays, The X Factor is providing Fox with a solid anchor (especially with viewers under 35) and is beating a host of competitors. But it's still down sharply from last fall's disappointing debut, and there's zero evidence to suggest it will ultimately end up bigger than season one (even with the costly addition of Britney). If we had to place bets right now, we'd wager CBS will end up ending Fox's reign as the top net with under-50 viewers come May (in no small part due to the Eye's upcoming broadcast of the Super Bowl). And yet, it would be foolish to write off Fox: Mid-season thriller The Following could instantly remake Mondays, while American Idol could look even bigger next winter versus The Voice.
We can already tell which shows are sticking around and which are doomed.
In the latter category, we'd include Mob Doctor and CBS's Partners. There's buzz Fox will stick with Mob through October (it helps to have baseball preemptions), but that might simply be a matter of the network wanting to hold on to ad monies that it has already collected for the show. (In other words, whatever replacement programming Fox might slot here would likely net less revenue than the ad time the network has sold in Mob.) By contrast, the Eye's comedy will very likely be gone by the end of this week, barring an unexpected uptick. As for shows headed toward so-called "back nine" orders (named after the number of extra episodes commissioned), we'd be shocked if NBC didn't green-light more Revolution and Go On; The New Normal should also get an extension of some sort. Similarly, week-one numbers suggest Elementary and Vegas will last through the season at CBS. Early numbers on Last Resort weren't great, but here's one hopeful sign: The show did very, very well with young men — a group that usually ignores ABC. If this holds up in the coming weeks, ABC might choose to ignore low overall numbers and see if the show can build in females.
TV's grizzled veterans continue to defy gravity.
NCIS began season ten last week with more than 23 million viewers (if you include DVR viewing). Survivor nearly doubled the under-50 audience of NBC's new comedies Animal Practice and Guys With Kids, while coming within spitting distance of The X Factor. And on Sunday, The Simpsons kicked off season 24 virtually matching its year-ago ratings and outdrawing every other entertainment show on the night (save for Once Upon a Time). To call these performances impressive would be an understatement. And it should be noted that not all of TV's senior citizens remain vibrant: NBC's Law & Order: SVU returned last week with its least-watched premiere episode ever (at least in overnight ratings). Just one more thing to blame on Jeff Zucker: At one point, he expanded the franchise to four editions (remember Law & Order: Trial by Jury?), and during a few particularly desperate weeks of his reign, he opted to air episodes of the show on six of seven nights. Dick Wolf has more money than God, but had NBC managed his creation better, we might be noting the great numbers of L&O this week as well.