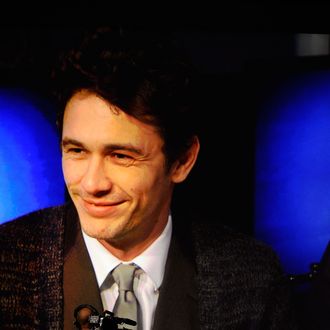 Photo: Kevork Djansezian/Getty Images
Once upon a time, when Joaquin Phoenix was still a fake-rapper with a hermit's beard, The Master was an untitled Scientology movie starring Philip Seymour Hoffman and Jeremy Renner. But there was another version of that lineup, it turns out — or, at least, there were some conversations between Paul Thomas Anderson and James Franco about the role of Freddie Quell. Today's installment of "What Might Have Been: Master Edition" comes from Franco himself, who told the following story at the Austin Film Festival:
"Paul Thomas Anderson was getting ready to make the Master and he called me and we met … When he started talking about the role he said 'Do you feel like you can do this?' And I said 'Yeah, totally. Look, I think you're like the best American director. I feel confident. I know I can do this.' And he said to me 'But I want this to scare you. I want this role, going on this journey to scare you.' And I was like 'Scare?! I know I can do it. And so, incredible movie, needless to say I didn't get the part. I guess I wasn't scared enough or something, or whatever reason I didn't get it."
And then he said some rude things about the Oscars (specifically: "the material they gave me was CRAP"). So he and Joaquin are not all that different.