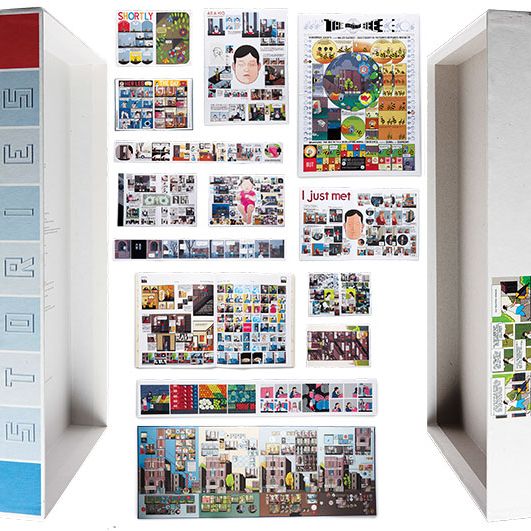 Photo: Victor Prado/New York Magazine
"It's got a certain degree of chutzpah and pretension to it," says cartoonist Chris Ware of his latest work, Building Stories, a complex, multipart graphic novel whose contents fill an entire box and wind their way through fourteen different elements, including pamphlets, mini-comics, magazines, newspapers, and a Little Golden Book. "The whole book is supposed to be a dream object," explains Ware. "I wanted the box to be a beautiful thing and to have that promise to it that a gift has on Christmas morning."
Building Stories began as a single comic strip—the "Winter" page, printed here on a foldout piece of cardboard—which Ware drew in 2001 for a Swiss magazine. "I did three more to complete the seasons and from there got interested in the characters," he says. "It just sort of grew unreasonably from that point."
The interweaving, chronologically inventive (there is, very intentionally, no official start or end to the story) narrative follows the inhabitants of a three-story apartment building. "It was sort of a petri dish or incubation setting. It's supposed to kind of hint at the ideas and imaginings that one might have about one's neighbors." The building, an anthropomorphized character in its own right, is an amalgamation of ones in which Ware lived in Chicago, where he moved to attend grad school in printmaking at the Art Institute and has stayed ever since. The story focuses primarily on the renter of the third floor, a lonely woman with an amputated leg—though Ware devotes at least one element of the package to each of the building's occupants.
Ware tells the neighbors' stories (plus those of the building, and of a bee) in simple, hyperclear frames. But layouts vary from traditionally organized comic-strip panels to complex spreads that swirl around central images or lead readers on flowchartlike journeys across a page. "I think of them as maps," Ware said. "I don't plan them. I just simply start drawing," with each page taking roughly 40 hours, drawn and erased and edited completely by hand. "Drawing on a computer doesn't make any sense to me. It's not intuitive. You're basically just using algorithms of approximations of a drawing implement."
While its format might be unconventional, Building Stories has characters who deal with familiar troubles, like aging, loneliness, and unhappy relationships. The main character in particular wrestles with the frustrations and failures of her artistic dreams, a subject to which Ware can relate. "It's a regret that everybody has, even so-called successful creative people. I didn't study comics. I studied painting. Sometimes I feel that, as a cartoonist, I'm compromising myself. But I think fundamentally I'm just a really terrible painter."
Building Stories by Chris Ware. Pantheon. $50.
*This article originally appeared in the October 15, 2012 issue of New York Magazine.