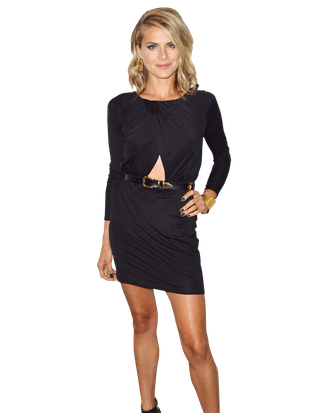 Eliza Coupe.
Photo: Alberto E. Rodriguez/Getty Images
Eliza Coupe plays the hypercompetitive control freak Jane on Happy Endings, who starts off the new season (premiering tonight on ABC) happy that she has an out-of-work husband who can stay at home and be her "wife." In real life, Coupe is far more easygoing. She spends her free time learning to cook and to pole dance and obsessing about Michael Fassbender, about whom she's created the web series "Why Won't You Talk to Me," in which she laments the downside of her relationship with the actor, as represented by a magazine cutout. Her Happy Endings cast mates get in on the fun, pretending to have more meaningful interactions with him than she does. How will Coupe handle the rejection? Probably by making more videos. The very funny actress chatted with Vulture about her celebrity crush, Jane's ex-girlfriend, and her lifelong dream.
Where are you?
I'm on my roof. Don't worry — I'm not having an "I am a golden god" Almost Famous moment. It's not a real roof. It's more of a deck.
Okay, good. Don't jump off just because Michael Fassbender has rejected you.
Oh my God, there is not enough therapy in the world for that! It's so funny, because when I was growing up in a small town in New Hampshire, I was obsessed with Leonardo DiCaprio — from the Growing Pains/What's Eating Gilbert Grape era, because he was superhot — and I carried a laminated photo of him in my wallet and said he was my boyfriend. But no one believed me. They just thought I was a fucking weirdo. I get the weirdest crushes: Vincent Gallo … anyone named Vincent. I still have a crush on Johnny Depp, and I literally only started dating my husband because he looked like Johnny Depp — and he knows that. We've been together for twelve years, and he still looks like Johnny Depp. So nothing is new here with Fassbender; I've just taken it to the next level.
Where did the crush on Michael Fassbender start for you? Fish Tank? Shame?
Inglourious Basterds. That's where I loved him. I don't want to see Shame. I'm still in my own delusional world that I will get a real live showing of that amazing piece someday, and I don't want to ruin it before I see it with my own hands.
You have a nude scene of your own coming up on Happy Endings …
I'm completely naked, but I'm all pixilated out. I'm actually wearing the most unattractive flesh-colored bandeau bra and boxers. They asked me, "Do you want to wear pasties?" And I thought that would just make it look weird because they pull at your skin and you look like a deformed Barbie, which is not at all attractive. I don't need anyone to have that visual! So, really, it was for the crew, because all I do is think of other people. You know, I think Damon [Wayans Jr.] should wear my boxers, but in my color, so he has a really fucked up tan line.
You've been describing the turns Brad and Jane's relationship takes this season as Fifty Shades of Grey, but unlike Kalinda and Nick on The Good Wife, no guns or knives are involved.
I'm an arguer. When I fight with my husband, we get to that point where we explode a little bit, and that's the orgasm, the verbal orgasm, and dude, we are done. Smoke a cigarette, done. We don't even have to have sex sometimes. And Damon and I have so much fun that within ten minutes, we're telling inside jokes and making faces at each other. We're just on the same wavelength. Sometimes they don't even write in the sexual allusions, but we just come up with them; like in the first season, we would randomly start kissing each other, and it wasn't in the script. One scene said something about a wet blanket, so I draped myself over him like a blanket, and we just made it sexual, right there.
One of the upcoming guest stars this season, in addition to Rob Corddry as your new boss, is Briga Heelan as Jane's ex-girlfriend.
I've never met her before, and I'm excited to shoot that. I think it's hilarious, because Jane definitely dabbled in a same-sex situation, so it's not that unexpected. We'll get to hear about how crazy she was in art school. She was just like, Whoever, whatever, and it would get dark and gross and weird. I could see her getting into animals. Maybe a bunny. That's kind of gross, actually. Maybe not a bunny. I just draw lots of bunnies, so that's where my head is at. But I think the writers have done a great job of exploring the inner workings of Jane, why she is the way she is, how she is the way she is. I love her competitive nature.
Here's an idea for her: Take a pole-dancing class! I took one once because I was trying to get more into my body. I'm always working out; I did ice hockey in high school, but I'm not a dance person. I mean, this was horrible, but I had a dance double in my high-school musical. This girl Andrea, who was a small, petite brunette, was my double, and I was actually 40 pounds heavier and a brute, so I would hobble off the stage, and she would come on, graceful as a little swan, and then I would come back on. People were probably like, "What the fuck just happened?" But I would love the idea of Jane being so competitive in a pole-dancing class — who can climb the pole better? — and getting kicked out of the class.

Her competitiveness works for her, though. The upcoming episode where she helps Penny buy a car, for instance, because that's usually such a stressful ordeal, and she knows how to play that game.
She knows all the tricks! I love that about our show — anything that is typically, like, a man does this better? No. We're going to flip it. A woman can do it. Adam Pally's character being gay is so awesome because he acts more like a straight guy. Everything is flipped on its head. There are no rules anymore. We have so much fun with that. I feel like great things are born from being restricted.
Do you still have a dream of joining the cast of Saturday Night Live?
That was seriously my lifelong dream. I used to wake up and sneak downstairs, and my dad would come down and watch it with me. My dad tried to call Lorne Michaels to tell him that I should be the youngest cast member at the age of 11. So when I finally moved to New York, I sent in a tape, a real rough one, and literally right after I sent it in, I got the pilot for 12 Miles of Bad Road, playing Lily Tomlin's totally drunk and crazy daughter, which made the SNL tape null and void at that point. We did six episodes, and then we got canned, which really sucked. And I later sent in another tape to SNL, but then I got Happy Endings, so I feel like the world is telling me that SNL is not what I'm supposed to be doing.