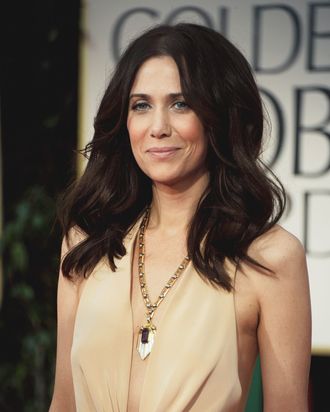 Actress Kristen Wiig arrives at the 69th Annual Golden Globe Awards held at the Beverly Hilton Hotel on January 15, 2012 in Beverly Hills, California.
Photo: Frazer Harrison/Getty Images
Kristen Wiig, Guy Pearce, Nick Nolte, and Hailee Steinfeld walk into a bar (beer, martini, double-whiskey, Shirley Temple, respectively). They commence celebrating their coming together as a ragtag mixture of interesting stars for the movie Hateship, Friendship. Then they head to New Orleans to film the indie production with Liza Johnson (Return). It's based on a story from one of Alice Munro's zillion books of short stories, with Wiig playing a nanny caring for an unruly teen played by Steinfeld.