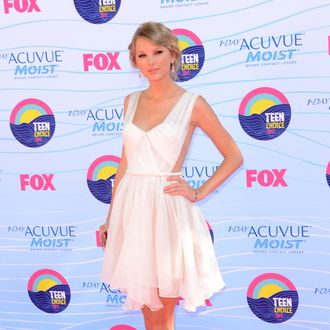 Photo: Jason Merritt/Getty Images
Today in new music: Taylor Swift redefines dubstep (not really); Pusha-T defines "pain" over and over again; and the charming Ellie Goulding releases her new album, which has nothing to do with the dictionary but is just a nice musical event. Who will you choose?


Taylor Swift - "I Knew You Were Trouble"
Good news, unless you were super invested in Taylor Swift's EDM reinvention: The dubstep here is limited to a few "wubs" in the (slightly jarring) chorus. Otherwise, here is yet another plucky, vowel-laden Taylor Swift breakup jam!
Pusha-T featuring Future - "Pain"
Pusha + pianos = "hit play now." ("Pain" is the first single off Pusha's upcoming solo album.)
Ellie Goulding - "Explosions"
You know Ellie Goulding — she sang at the Royal Wedding, she's dating Skrillex, and she almost had a No. 1 with "Lights." Her second album, Halcyon, is out today. If you like this, you will probably like that.