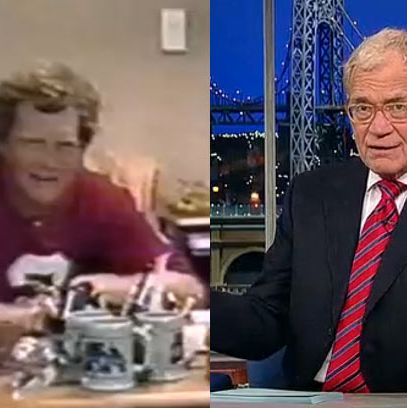 Letterman, audience free in 1985 and in 2012
Photo: CBS
Yesterday afternoon, while many in the New York metro area were filling up bathtubs with their potential water reserve or buying six packs of whatever beer the most resilient bodega was selling, David Letterman was in a yellow rain jacket, standing outside the Ed Sullivan Theater with Paul Shaffer in the pre-storm calm, filming a purposefully dumb opening bit for the night's show. In it, Letterman lays out the situation — the weather is bad and getting worse and they don't have an audience — and then he casually asks Shaffer if they should do a show. After agreeing to give it shot, they turn to open the doors of the studio: It's locked. Shaffer asks, "Where's the key?" Letterman quietly chuckles and throws his hands up, "Oh, ah, it's upstairs." The real punchline came with the opening credits being set over shots of flooding and sand bags. Even before the man was introduced to an empty theater as "The Perfect Storm, David Letterman" the show's tone was set: It was going to be dumb and silly, seemingly aiming to get a viewer to ask, "Why do a show at all, if it's going to be like this?" In other words, it was going to be like the old days. 
As of earlier this year, Letterman has been a late night television host for 30 years. While nearly every show in some way plays with the late-night chat form, from the goofy Conan O'Brien to the absurdist Comedy Bang! Bang! and Eric Andre Show, Letterman was the first to deconstruct and poke at the traditional monologue/desk bit/guest/guest/guest format practiced in its most masterful form by Letterman's idol Johnny Carson. And when NBC's Late Night began in 1982, Letterman challenged the audience to be in on the joke as he framed the whole enterprise as a waste of time, his segments as frivolous exercises. It was a brand new, ironic approach, and in its glory years wowed its young, devoted audience with moments alternately and often simultaneously dopey, brilliant, and surreal. Interviews could be memorably cranky (an interaction with a celebrity that wasn't 100 percent adulatory? What was this?) and you often got the sense that he was ignoring the pre-interview notes.
Then, as these things go, Letterman became more and more popular and his show became part of the new normal. He moved to CBS, started competing with Tonight, got older, and lost the need to surprise or reinvent anything. Letterman's current show for the most part grew into what he has always made fun of. It's a predictable format, the same as Carson's, only instead of one desk bit there is often a handful of microbits strung together to start the show, as if none of them could hold his interest for long. The man is 65, the standard age for retirement, and he'll admit he doesn't try as hard anymore. As he told Alec Baldwin on Baldwin's Here's the Thing podcast:
"I do a lot less work than I used to do. I just got to a point where I have no patience for meetings, so I don't go to any meetings. I can't make decisions anymore or I don't like making decisions. We have a dozen producers; they can have the meetings and they can make the decisions and I'll just come down and somebody will tell me what to do and we go … I used to be involved in everything. Big and large. I don't know that was necessarily good, but at the time I thought that was what was required when you had your own show. You had to have everything in your view and certainly influence each little choice."
Last night's episode showed what happens when Letterman can't just go through the motions. He performed his monologue while sitting at his desk and looking at Paul Shaffer. The first joke involved a long setup, in which Letterman explained how severe the storm was: "We felt like we'd be putting the audience at jeopardy, if they had to sit through the show." Even before he started the punchline, he began to smile: "And I said, 'Hell, we've been doing that for 30 years.'" The band and Shaffer burst into an artificial uproar and Letterman ironically slapped the table. Back in the day, his monologue jokes (served economically, usually just four or five) used to serve as a parody of cheesy monologue jokes, but as the show's opening act has grown longer on CBS, it's been hard to distinguish between knowingly lame monologue jokes ("it's so cold that the rats have been _____") and lazy, lame monologue jokes. But last night, Letterman seemed to know just what he was doing. He followed jokes written for him with "I don't get that," like an anti-humor veteran using moves for the first time in years. It's not that he has ever stopped mocking his own jokes, but without the audience's hopped-up laughter shuttling him along to the next punchline, Letterman seemed to actually be paying attention to just how bad they were, turning them back into commentary.
Eventually, Denzel Washington came in and the two had a fairly casual conversation, one that could've fit in any episode of the last few years. He slyly asked about cocaine and they shared their mutual admiration for John Goodman. The difference was, without the usual claps and hollers of a crowd, the artificiality of the conversation was apparent. Denzel's fake laughs reminded you of why Letterman sought to make fun of this format in the first place. This artifice is where Letterman's irony came from. Toward the end of the interview, the notoriously hermitlike Letterman commented, "I don't know why we're not good, good friends," just so the audience at home knew that he knew that the entire conversation was at least partially bullshit.
The whole thing brought to mind classic episodes of Late Night with David Letterman in which they'd just play with the format because they could. There was the episode in which the camera turned 360 degrees throughout the hour, so halfway through it appeared upside down. Last night's episode felt most similar to the legendary 1985 episode in which Letterman bypassed the studio altogether, sending the audience home and shooting the whole thing in the show's production office. In it, a pizza man came, the writing staff is shown just sitting around, and, most famously, he convinced Teri Garr to take a shower in his office bathroom. Though no celebrity took his or her clothes off last night, it had a similar impromptu, mischievous feel. You could see producers running around and you could hear Paul Shaffer sneeze. The only laughter was that of the crew. Without an audience in the studio, they were only trying to crack themselves up. That's the same vibe the show put out in 1982: Here was a host determined to do what he thought was funny, not what was expected of him by the format he was handed. Letterman was again in charge, for at least one night.