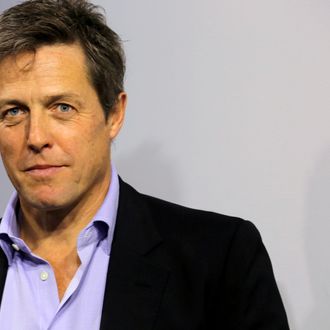 \Actor Hugh Grant attends "Cloud Atlas" Photo Call during the 2012 Toronto International Film Festival at TIFF Bell Lightbox on September 9, 2012 in Toronto, Canada.
Photo: Jemal Countess/Getty Images
Hugh Grant has lined up his post–Cloud Atlas project, and yes, it's a rom-com. According to Deadline, Grant has signed on to star in a still-untitled movie about a washed-up Oscar-winning screenwriter who starts teaching at a small East Coast college — where he falls in love with a single mom who's going back to school. The movie marks Grant's fourth film with writer/director Marc Lawrence, who also did Two Weeks Notice (decent!), Music and Lyrics (actually good!), and Did You Hear About the Morgans? ( … terrible).