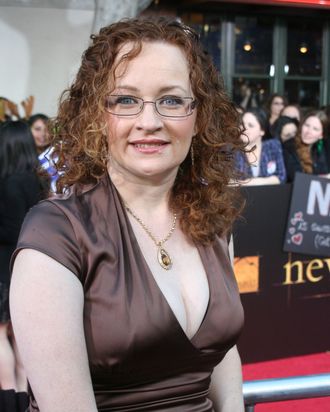 As part of this week's series on fandom, Vulture will profile a number of passionate, influential fans.
NAME: Laura Byrne Cristiano, 46, co-founder of Twilight Lexicon, the oldest Twilight fan site.
ORIGIN STORY: Laura Byrne Cristiano's Twilight fan story didn't begin with Twilight, but with Harry Potter. Through the now-defunct HP fan sites Sugar Quill and Werewolf Registry, Cristiano met a fellow fan of the wizarding world in 2003 named Lori Joffs, who developed a fierce new obsession in the winter of 2005. "Lori kept chattering about this new book Twilight, and I honestly read it at first just to shut her up," jokes Cristiano, who immediately found herself drawn to the world of Bella and Edward. "At the time, it wasn't like anything else out there," she explains. "Every other book heroine had these tremendous odds stacked against her: She was suffering from an eating disorder or was caught in a custody battle. And I'm not staying those stories aren't valid, but unless you were personally in that situation, it was kind of hard to relate." Bella, on the other hand, was "so ordinary, finding herself in extraordinary circumstances. It was very easy to say, well, how would I deal with this kind of situation?" And, of course, "you remember what it was like being in high school and being in love that first time and how crazy and full of tension and drama it was." 
In 2005, Joffs began an e-mail correspondence with author Stephenie Meyer. "It sounds more impressive than it is, because back in the day, she wasn't the most famous person in the universe," Cristiano qualifies. Still, for two fans who were accustomed to idolizing the reclusive J.K. Rowling, an accessible author was a tantalizing idea. With Meyer's blessing, Cristiano and Joffs launched Twilight Lexicon in March 2006. "Stephenie said she was doing a lot of book signings, and fans ask the same questions in Detroit as they do in Hartford, but they don't connect with each other," Cristiano recalls. "We thought it would be really handy to have a website where we could put up a lot of facts and questions that fans have, so there was this common knowledge base. That was how our website grew." It now gets around 75,000 visits a day. 
COMING OF AGE: Within six months of launching Twilight Lexicon, Cristiano realized just how big this little vampire-and-werewolf love triangle was becoming. "Right after New Moon came out in the fall of 2006, we went to a signing in Nashville, and there were 500 people in line," she remembers. "Then every signing I went to that fall, people were there in the hundreds. And it just exponentially grew." By the time the third novel, Eclipse, came out in 2007, the first film was already in production. "With every book, with every movie, we've just seen an exponential increase in the number of people who've been visiting our website," says Cristiano. "Before the movies, we were getting thousands of visitors; after the movies, we were getting tens of thousands."
ÜBER-FAN RESPONSIBILITIES: At least twenty hours a week go into maintaining and updating the site — more when a movie is in production or about to hit theaters (as is the case right now). With the Twilight saga completed in print and soon to be finished in theaters, the site is dedicated to covering all new works in Stephenie Meyer's oeuvre, along with any Twilight references that crop up in the news. Cristiano explains her criteria thus: "If it's Taylor Lautner Goes for Coffee Day 552, I'm not wildly interested in that picture. If one of the actors is doing another film, that's fantastic; but if they name-drop Twilight, then that article is newsworthy for me." Cristiano works in marketing, and the ad revenue from Twilight Lexicon pays site-related costs. "We certainly haven't quit our day jobs," she notes.
HITTING THE BIG TIME: Having long been in touch with Stephenie Meyer, who participates in Q&As for the site, Cristiano was stunned to learn that she had a fan in the director of Breaking Dawn. "In the months leading up to the Breaking Dawn premiere, a bunch of the Twilight sites were invited to do a Q&A with Bill Condon in his edit bay for a half-hour. We're going around the room introducing ourselves, and when I get to myself, Bill Condon goes, "Oh! We love the Lexicon! We used it on set!'" When the November premiere rolled around, Cristiano was camping out near the red carpet with other fans when "someone taps me on my shoulder, and I turned around, and it's Bill Condon. And he said, 'Hi Laura, how are you doing? This is just amazing. Is this really surreal for you?' And I said, 'To be honest, what's surreal to me is that Bill Condon just tapped me on my shoulder and asked if being at a Twilight event is surreal.'"
INTER-FAN WARFARE: From the moment the films were announced, casting has been a contentious topic among Twihards. Meyer had her own ideas for who should ideally play the characters, none of which were used. Pattinson, in particular, was a controversial choice, as Cristiano recalls with a laugh: "Early on, there were people saying things like, 'Robert Pattinson is so ugly; how could he ever be Edward Cullen?'" Later on, Summit's decision to replace a vampire actress between films — Rachelle LeFevre, who was swapped out for Bryce Dallas Howard — had bloodsucker fans taking sides. "This happened in the third movie, which had the meatiest part for that character, Victoria," Cristiano explains. "She was replaced over a dispute on her being needed at another film, and it would have paralleled the New Moon shooting. Summit claimed she didn't clear it; her camp said it was only going to be a few days and they should have worked around it." Lacking any non-biased information on the situation, the Twilight Lexicon took a neutral stance and let fans hash it out in the comments. At the moment, says Cristiano, the biggest controversy in the Twilight community centers on Fifty Shades of Grey and other thinly disguised Twilight fan fiction gone mainstream. Some fans love the trend, she says, "while other people feel like, hey, you got all your creative ideas and characterizations from another book, you shouldn't be taking credit."
TEAM JACOB IS ALIVE AND WELL: And what of that famous fan conflict turned marketing gimmick, Team Jacob versus Team Edward? "There are absolutely people who still feel like Bella would have made a better choice if she was with Jacob; she wouldn't have given up her humanity," says Cristiano. "[But] that ship has sailed. "
LONG-TERM PLAN: Twilight Lexicon now has other Stephenie Meyer projects to cover, including the film adaptation of her sci-fi novel The Host (coming to theaters in 2013). As far as Twilight is concerned, Cristiano believes that its mega-fandom puts it firmly in the pantheon of fantasy classics. "I think there will always be a place for Twilight. Maybe it won't be to the same degree as the heyday, but you're always going to have Twilight fans who congregate around websites and web forums." And how does Cristiano feel about wearing the label "Twihard" for the rest of her life? "At first, I didn't like the term because I felt like a lot of people used it in a really condescending manner," she admits. "But I'm okay with it now. Now I'm like, 'Yes, I am passionate. You got a problem with that?'"