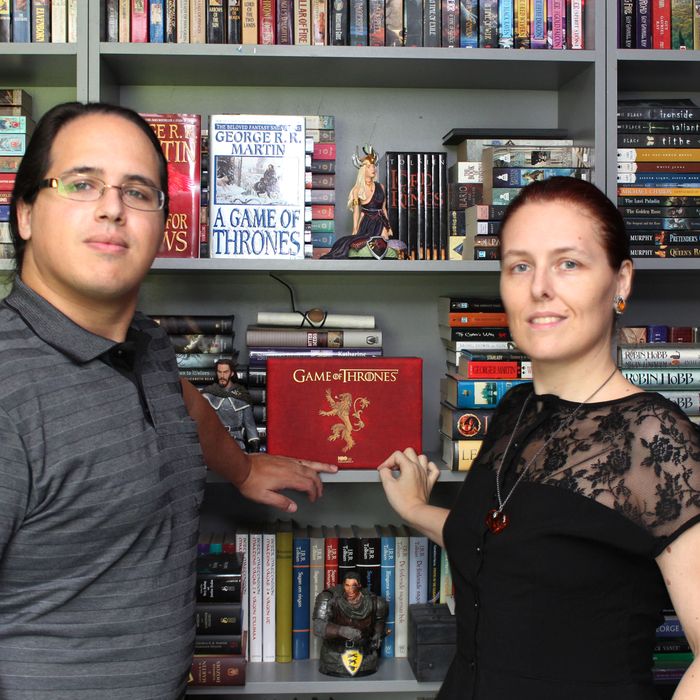 As part of this week's series on fandom, Vulture will profile a number of passionate, influential fans.
NAMES: Elio García, 34, and Linda Antonsson, 37, webmasters of Westeros.org
ORIGIN STORY: The story of García and Antonsson's Song of Ice and Fire fandom is also a love story. The couple met through a text-based online role-playing game in 1995, when he was living in America and she was in Sweden. (Elio, a professional writer, has since crossed the ocean to be with Linda, an English/Swedish translator; they are now engaged.) A devoted fantasy fan, Antonsson read A Game of Thrones (the first of five novels and counting) when it came out in paperback in 1997. She recommended the book to García, and after overcoming his skepticism that it was another Lord of the Rings knockoff, he found himself similarly enthralled. "For my part, it was the way it blended the romantic view of a sort of pseudo-Medieval era with ruthless realpolitik," says García, who was studying medieval history at the time. "Even though it's grounded in a kind of realism, it also fully embraces that it's a fantasy." Antonsson was also drawn to the "created history" of Westeros.
The couple was inspired to incorporate the world of Westeros into a new role-playing game they were developing and contacted author George R.R. Martin in 1998 to obtain formal permission to utilize his setting. A known gamer himself, Martin went through the turnstile of lawyers, agents, and publishers in order to help them out. During the eight months of waiting for permission, the couple launched its first Song of Ice and Fire website, featuring clip-art interpretations of the series' heraldry. Martin was sufficiently impressed. "It seemed like a cool idea to try and replicate the shields, so we sent him the link to it, and he proceeded to send us a massive list of all the heraldry that he had made up but not yet used in the books," says Antonsson. (The site currently has 358 shield designs, some of which have yet to be used in Martin's novels.) In 1999, the same year that García relocated to Sweden, he and Antonsson launched Westeros.org, dedicated to documenting the ongoing series and Martin's additional background material. The very active site now has more than 50,000 registered members, several thousand of whom post and comment regularly on the discussion boards.
THE STUDENTS SURPASS THE MASTER: Around the time the third book, A Sword of Storms, came out in 2000, García began compiling a concordance of facts and details about Westeros, intended as a resource for their role-playing game. They sent the document to Martin, who was soon boasting that García and Antonsson knew more about his books than he did. By the time he wrote 2005's A Feast for Crows, the author had begun relying on the couple as a fact-checking resource. "[He would ask], What have I established about this and that?" says García. "Or, Check to see if I mentioned something about this king or this date. And things do slip by because it's so massive. "
ÜBER-FAN DUTIES: Twelve to 30 hours a week updating the site with news and reviews of both the books and HBO's Game of Throne series, as well as managing the forum and the wiki. (Additional volunteers also help with the work of maintaining Westeros.org.) The couple also works as informal consultants on the television series, "looking up the odd detail here and there," while Antonsson has been paid to subtitle the show for Swedish television. They've also been writing a series companion, The World of Ice and Fire, since 2006. And they're still running that role-playing game that started it all, Blood of Dragons. "It started out as a big hobby, and now it's both hobby and work a lot of the time," says Antonsson.
THE AMATEUR PROPHETS OF WESTEROS: Despite the best efforts of Martin and the Westeros.org volunteers, some inconsistencies have slipped through into the books. Ironically, these errors have resulted in a thriving subculture of Song of Ice and Fire conspiracy theories. "One of the big ones has to do with the description of a character [Robb Stark's wife, Jeyne Westerling] and her hips," says Antonsson, "where one character from the third book says she has good childbearing hips, and in the fourth book, someone says her hips are narrow. And now people speculate, 'Oh, oh, this is a hint. There's been a switch. Someone has changed. It's not the same girl and it's all a trick.'" As far as Antonsson is concerned, "I'm pretty sure it was just a mistake. George has apparently told people that it's a mistake. But people want to believe this very complex theory of theirs." Even when fan theories seem to clash with Martin's intentions, García and Antonsson make a point of indulging the speculation on their site, keeping "the more credible pieces" in their official pages and allowing room for wilder commentary on the Wiki of Ice and Fire. "We encourage it," says García, "because this is definitely part of what the series is about."
LONG TERM PLAN: García and Antonsson are likely to be among the first people to get a look at The Winds of Winter, Martin's highly anticipated sixth book. "It's a strange thing to be reading this stuff, and you just have to shut up and not ever talk to anyone about it for years and years," muses García, who has sometimes read chapters years before publication. But at the moment, the couple is finishing up The World of Ice and Fire, which is being co-authored by Martin. In fact, it was Martin's idea. "I was visiting my family for the first time since moving to Sweden, and we were passing through New Mexico and I thought, Maybe we can stop by Sante Fe," says García. "And George dropped everything to meet me, and during dinner, he talked about how he was starting to get interest from publishers about some sort of setting guide to Westeros. And then he asked, 'Do you want to write this with me?'" The book is scheduled for publication by Random House in 2013.