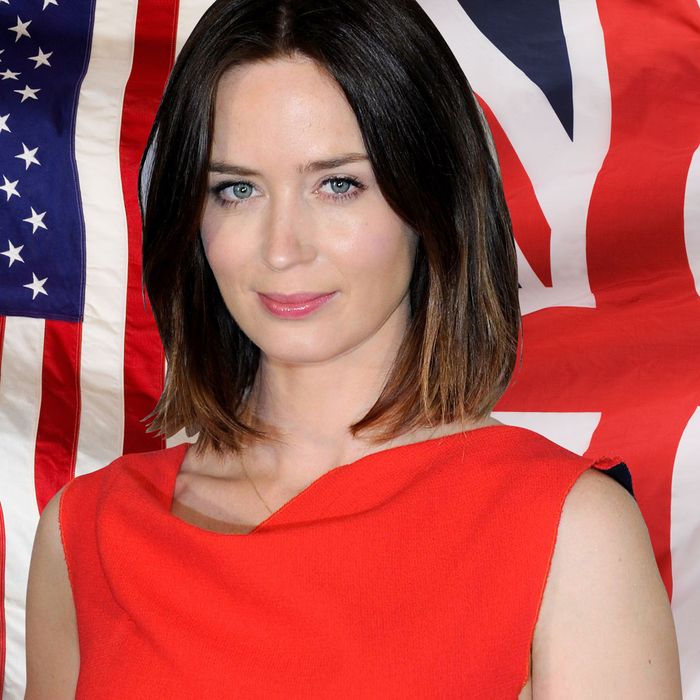 Photo: Christian Augustin/Getty Images, Corbis
Born in London, Emily Blunt is as British as she is great: quite. And as a proper British person, she grew up speaking the Queen's English. However, then she started acting and things went, as she might've once said, arse over tits. Her British accent grew less British and her American accent grew more American. This year, in the four movies she has starred in, her transformation officially crossed a line — her American accent is now so believable that she sounds positively barmy when she attempts to do otherwise. Let's track the ten-year shift:
Project: Warrior Queen (2003)
Part: Isolda/British
Accent: Blunt's first film role and she sounds quite British. This is magnified by the fact that the dialogue is delivered in that overly formal style that telegraphs, "This took place a long time ago when people spoke fancy."
Project: The "Death on the Nile" episode of Agatha Christie's Poirot (2004)
Part: Linnet Ridgeway/American
Accent: Blunt's first stab at American. It starts okay, but by the time she gets to the line, "You and Tim seem awfully close … " she might as well be riding a lift and eating an aubergine biscuit.  
Project: Devil Wears Prada (2006)
Part: Emily/British
Accent: Blunt at her most British. She likely hammed it up a bit to compete with Meryl Streep's overwhelming gravitas.
Project: Sunshine Cleaning (2008)
Part: Norah/American
Accent: Blunt's first major role as an American and she nails it. Except for one small detail: If you listen closely, she hums in a British accent.
Project: The Five-Year Engagement (2012)
Part: Violet Barnes/British
Accent: Emily offered to do an American accent in this romantic comedy, but Jason Segel requested her natural one. The only problem was her natural accent didn't sound very natural to her anymore. In this clip she delivers easy-to-British-ify words like "weird" and "what" sans affect. There are times during the film when Alison Brie sounds more like the actual Brit.
Project: Salmon Fishing in Yemen (2012)
Part: Harriet/British
Accent: You can really hear her British accent start to fade here. She ends her sentences flatly, without that little British uptick. By the time this filmed, she had already been married to the very red, white, and blue John Krasinski, which might explain the overly American delivery of the line "and I took a guess."
Project: Your Sister's Sister (2012)
Part: Iris/British
Accent: Sure, she says "mum," but otherwise her accent cuts in and out like an American actress struggling to play Lady Havisham. The way she says "the other" at the end of the clip is as American as an apple pie driving a pickup truck.
Project: Looper (2012)
Part: Sara/American
Accent: Blunt's character in Looper reassures us that in the future Amuricans will still sound like Amuricans. Listen to the flatness and understatedness of her Midwestern accent. Add in her very un-British tan, and she reads as 100 percent Grade-A American.
Project: Arthur Newman (TBD)
Part: Mike/American
Accent: Her Yankee accent is so effortlessly accurate here that, in comparison, Colin Firth seems like he's still playing the King of England.