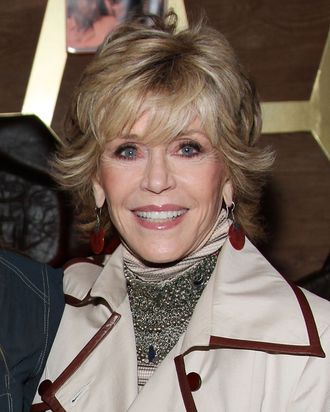 Jane Fonda at A Candid Conversation with Jane Fonda and Andy Cohen on the 40th Anniversary of her Academy Award winning role in Klute to benefit the Georgia Campaign for Adolescent Pregnancy Prevention at Darby Downstairs on October 11, 2012 in New York City.
Photo: Rob Kim/Getty Images
Jane Fonda's sort of having a moment, between her role on The Newsroom ("Do you want to play golf, or do you want to fuck around?" etc.), her upcoming gig as Nancy Reagan in The Butler, and now this: Variety reports that Fonda has joined an ABC sitcom pilot. Now What? is about a young woman who writes a blog post titled "Dear Mom, Here's Why I Hate You … " only to have her mom (Fonda) move in with her to try to repair their relationship. The dangers of the Internet, kids!