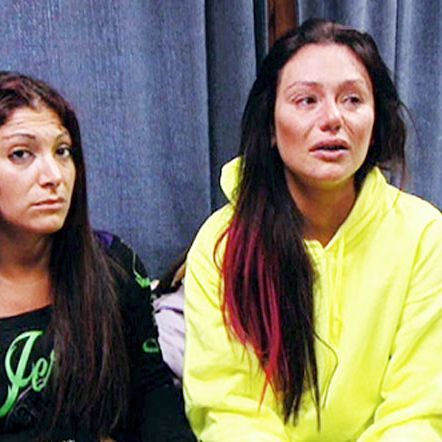 Oh, hello. Did you watch Jersey Shore this week? And would you like to read a recap of it?
Okay, person who probably started watching while looped on plonk and painkillers and wants to make sure that what they saw was actually on television. This week, I told somebody that I was recapping Jersey Shore for this site, and he said, "That show is still on?" And I replied, "Sort of!" I'll be here all week; try the piccata.
Okay, let's do this, because I fear we must. So, what happened this week? Well, not a whole lot. Jenni continued to agonize about her relationship with Roger, but I guess that that plot arc is sort of devoid of suspense given the fact that we know that they're now affianced. (Sorry to those of you who do not have access to Us Weekly.) Deena was sprung from the chokey, and her parents were most displeased.
The big news of the episode was that Mike's finally asking Paula to be his steady, which … was just kind of sad. Especially when he compared her to pizza. And like, not in a good way. How does that even happen? Pizza is great!
But since so little happened, we'll be focusing ENTIRELY on inanimate objects and foodstuffs, because the rest of the cast barely showed up.
Most Homophobic: Mike's Let's Make It Official Shirt
The shirt was more embarrassing before they put "I LIKE MEN" on the back. Christ alive. I cringed so loud it made a noise.
Most Damning: Ronnie's SoCo Burps
Everybody goes to the drunk tank. We've all been there, right, Ron? Right?
Most Likely to Appear in Your Nightmares: Paula's Nails
Hope she's using those to give hand jobs "on the reg."
Most Likely to Be Reblogged From Etsy's Tumblr: Mike's "Be My Girlfriend" Shirt
I know it was just an idea, but I'm a little obsessed with the idea of Mike presenting this to Paul at the tanning shop.
Best Biblical Allegory: JWoww's Crutches
Remember when she compared herself to Jesus? That was just great.
Most Stamina: The Chocolate-Covered Strawberries
I don't know about you guys, but I'm still burping these. Paula got some real mileage out of these, huh? I guess in Italy when somebody sends you a cheesy dessert from a French manicure ad, it's time to settle down.
Most Threatening: County Lockup
Wow. Deena's mom sure knows a lot about jail, huh?
Most Valuable Player: The Tackling Dummy
In an episode where the main event was a not-broken foot and a grown-ass man in his thirties getting a girlfriend, I think we can all agree that he was Mr. Personality.
Most Maligned: Pepperoni Pizza
It's the greatest. Let's just all agree.
Okay guys!!! See you next week — if we aren't mercifully killed by weather.