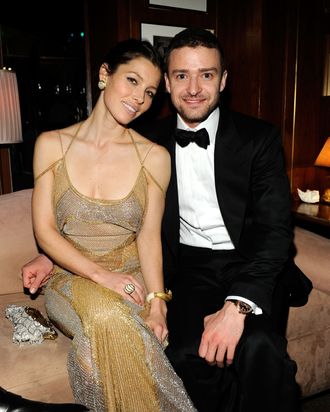 Jessica Biel and Justin Timberlake attend the 2011 Vanity Fair Oscar Party Hosted by Graydon Carter at the Sunset Tower Hotel on February 27, 2011 in West Hollywood, California.
Photo: Kevin Mazur/VF11/WireImage
Newlyweds Jessica Biel and Justin Timberlake are on the cover of People (JT is hopping in the air like a maniac/a Tom Cruise, Biel is seated politely in her pink dress), and here's a factoid we're now privy to: "Yes, I'm changing my name," says Jessica Timberlake. "My professional name will still be the same, but for life, yes, I think it sounds great. I think I really won the jackpot of names." We had literally no idea there was even a lottery for great names.