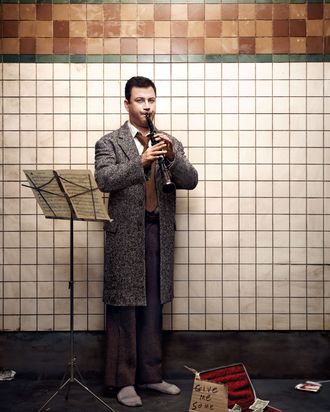 Photo: Art Streiber/New York Magazine
On a shelf of prized possessions in Jimmy Kimmel's Los Angeles office—next to a photo of his late grandparents, and one of himself covered in whipped cream taken during a bit in which he popped a fake zit on Jon Stewart's forehead—sits the best rejection letter the host of Jimmy Kimmel Live! has ever received. It's framed, typed on personal stationery, dated September 23, 2002, and reads: "Dear Jimmy, Thanks for asking me to appear on your premiere. Unfortunately, I will be out of the country on business. I'm sure the program will be a success regardless. Sincerely, Dave."
"Dave" is David Letterman, whom Kimmel has idolized since he was 11, and he was rejecting an offer to be the first guest on Live's debut episode. "His response is hilarious," says Kimmel, who in interviews back then claimed that the only reason he went into show business was to become friends with Letterman, and wondered why anyone would watch his show instead of Dave's. "He's not out of the country on business," says Kimmel. "He knows you know he's not out of the country on business. And just the words 'on business'—it really makes it a perfect letter for me."
Ten years later, they aren't exactly friends, but Letterman has finally agreed to do Kimmel's show. He'll join Stewart, Stephen Colbert, Chris Rock, and other guests at the end of this month when Kimmel broadcasts for a week from the Brooklyn Academy of Music—a homecoming for Kimmel, who was born in Mill Basin and lived there until he was 9, when his family moved to Las Vegas. On the day I visited Live's set, he shot a promo for the Brooklyn shows where he packed his 7-year-old nephew Archie into a suitcase.
Kimmel says he's "terrified" of interviewing Letterman, "and I'm sure for him it's nothing more than a nuisance, that he's just doing it to be nice." Or maybe he's trying to be magnanimous in advance of January 8. That's when Kimmel's show will move from midnight to 11:35 p.m., putting him in direct competition with both Letterman's Late Show and Jay ­Leno's Tonight Show. (Kimmel is less of a fan of his other rival: "Everyone is better than Leno," he tells me.)
The move follows a banner 2012 in which Kimmel hosted the Emmys and the White House Correspondents' Dinner, scored his highest ratings ever (Live is the only major-network late show whose audience is up over last year), and got engaged to his girlfriend of three years, Live's co–head writer Molly McNearney. Then next February, he'll get a star on the Hollywood Walk of Fame. There are a few blank spots near Garry Marshall and jazz trombonist Pee Wee Hunt just outside the front door to Live's home at the El Capitan Theatre on Hollywood Boulevard, but Kimmel has bigger ambitions. "You know what I'd like? I'd like to get mine at the expense of somebody else," he says. "Jackhammer-out, like, Louise Glaum. Or Phil Collins. I'll take his."
Hostile takeover didn't figure into Kimmel's new time slot, though—his move is one of the least bloody coups in late-night history, and won't put anyone out of work. It's bumping Nightline from 11:35 p.m. to 12:37 a.m., but ABC will compensate the newsmagazine with extra staff and an hour in prime time on Fridays. Not that Kimmel cares: "I never felt Nightline was rooting for us in any way."
"You can watch them paint the bald spot on my head in," Kimmel offers, beckoning for me to follow him into makeup. "It's humiliating," he says of the daily ritual, in which a woman named Stephanie erases white hairs and thin patches with a brush and black powder. But it's a necessary part of a job where the lighting is bright and unforgiving, the camera often swoops in from overhead, and one of Kimmel's selling points is his relative youth. (He's 44, compared with Leno's 62 and Letterman's 65. When Jimmy Fallon, 38, joined the fray in 2009, Kimmel had been the youngest network late-show host for almost seven years.)
"It's not as stressful, but it is like being the president in that you're on TV every day and people get to see you age," Kimmel continues, noting that Leno had a full head of black hair when he started appearing on Late Night With David Letterman in the eighties. "I'm going bald, there's no two ways about it. Maybe I'll get lucky and my hair will stop falling out." On the bright side, "believe me, I'm accumulating nothing but hair below the neck."
Still, he's young where it counts: Kimmel's viewership is smaller than Leno's, Letterman's, and Nightline's, but it's composed of a larger percentage of advertiser-coveted 18-to-49-year-olds than the audiences of every other show on late-night network TV, including Fallon's. Just moving to before midnight, Kimmel says, I'll have "an opportunity to increase my audience by 40 percent immediately, and that's the kind of thing you don't say no to." He explains: "In late night, sleep is your enemy, much more than your competition." And without Nightline as a lead-in, Kimmel and ABC believe the show's following will skew even younger. "I think it makes sense financially for ABC," says Kimmel. "The real reason always is, 'How can we make the most money?' "
"We feel like he's ready. Creatively, he's on a roll," says ABC Entertainment Group president Paul Lee. "He's grown into the role and become a natural ABC star." It took him a while, though. When Live debuted in 2003, Kimmel was 34 and coming from Comedy Central, where he'd spent four years as the sidekick on Win Ben Stein's Money (for which he won his only Emmy, in 1999) and four years co-hosting The Man Show, a winking tribute to male boorishness he'd created with friend Adam Carolla featuring drunken audience members, bikini babes on trampolines, and, at one point, Kimmel's marriage to a monkey. (The fratty behavior wasn't all an act. His longtime pal Carson Daly says he's vowed never to go golfing with Kimmel again because "the last time we went," in 2002 at a Vegas country club, "we were drunk, and he was literally urinating in the sand traps," says Daly. "I'm doing math in my head like Tiger Woods, and all I hear is, 'Hey, Carson! I'm spelling my name with piss in the sand trap!' " They were being interviewed at the time by a reporter from Golf Digest.)
Kimmel tried to bring that sensibility to ABC, but was quickly forced to readjust. The free alcohol for Live's studio audience dried up after one night, when a woman barfed during the premiere. And it took Kimmel time to build a rapport with celebrities. "I didn't understand that you had to be nice to the guests. I'd mow through them and then their publicists would never bring anyone back." (The stars had their revenge, though. Live hasn't broadcast live since 2004, when guest Thomas Jane said "fuck" and censors failed to catch it in time.)
Eventually, Kimmel learned to play ball. The jokes got broader, the interviews friendlier. After years of refusal, Kimmel finally decided to start wearing a tie. When the show faced layoffs five years ago, it was its host who suggested opening each episode with an "integration," or a sketch starring an advertiser's product, to make up for commercial revenue lost to the DVR era. "That was my stupid idea," he says. "Then it turned into a big
moneymaker for them. Now I'm stuck with it." In 2002, before his show premiered, he told the New York Times, "I would kill myself if I was forced to interview C-level celebrities and pretend to be interested in them." Now, though, he cheerily interrogates every reject from ABC's Dancing With the Stars. Hypocrisy? "Well, technically, they're D-list celebrities."
Kimmel's hard work—and sedentary comedy writer's lifestyle—has culminated in his office's most prominent piece of furniture: a huge, unwieldy treadmill desk. A year and a half ago, Dr. Mehmet Oz measured Kimmel's waist on the show, then called the next day to tell him he was at risk for a heart attack. "I thought, Dr. Oz shouldn't care more about my health than I do," Kimmel says. He started eating less, and better, and bought this odd piece of exercise equipment with a work surface attached so he could walk instead of sit during the seven hours a day he spends e-mailing with his writers. He's lost twenty pounds, but also, tragically, the ability to make fat jokes at his own expense. "When people would confuse me and Jimmy Fallon—which happens a lot—I'd explain, 'No, I'm the fat Jimmy!' I can't say that anymore."
Kimmel calls me over to the treadmill. "I just uncovered something," he says excitedly. "I found these stupid fucking comics that I made when I was 11." At the time, he says, "I weighed about 75 pounds—I was not a big kid," and he'd drawn himself an alter ego. "His name is Muscle Man. He's the king of all super­heroes, so he wears a crown," he says, showing me the drawing. "I haven't looked at these in twenty years. I never thought of myself as a nerd, but now I'm realizing that I absolutely was. My kids always say, 'Oh, you were a nerd!' when they see pictures of me playing the clarinet in high school. I say, 'I played baseball. I wasn't a nerd.' But, uh, I think they were right."
Those kids would be Katie, 21, and Kevin, 19, from Kimmel's ex-wife Gina. They met at Arizona State University (he dropped out). She was his first girlfriend, and he was married at 20. "I was a child. I just went along with it. It seemed to be the plan that was being worked on by my wife and my mother," he says. "My father did sit me down to have a little chat, but he didn't press hard enough. Sometimes I'll show him pictures of myself back then and go, 'You let this kid get married?' That's my son's age now. I would never let him get married."
Both of Kimmel's kids are in colleges in Chicago; Katie wants to be an artist, Kevin a director. They seem uninterested in their father's success. "I hosted the Emmys and my son didn't even watch it," says Kimmel. "I sent him a text [asking what he thought] and he said, 'Eh, I was at the movies.' "
Members of Kimmel's extended family, though, are plenty invested in his career; he employs many of them. His cousin Sal is a writer for Live; his brother Jonathan directs sketches; his cousin Micki is a booker; and, until he passed away last year, his uncle Frank was a show fixture. Guillermo Rodriguez, Live's former parking-lot security guard, has become Kimmel's on-air sidekick and dear friend (Kimmel is godfather to his infant son). And though Kimmel isn't technically related to his agent, James Dixon, he's close enough to have commissioned a nude painting of Dixon that hangs in his office.
Even Kimmel's bandleader, saxophonist Cleto Escobedo III, was the host's neighbor and best friend growing up in Las Vegas. Escobedo says his first memory of Kimmel, when he was 10 and Kimmel was 9, in 1976, was Kimmel walking down the street on a rainy day wearing sunglasses and boxing gloves. "I thought, 'Maybe there's something wrong with this kid. He's kind of quirky,'" says Escobedo. Later, he found out that Kimmel had gone to another kid's house and punched him in the face as a joke. (Escobedo's father, Cleto Escobedo Jr., plays sax in the band, too. He'd given up music for 30 years and was working as a room-service waiter at Caesar's Palace when Kimmel got Live. "He got to quit that job and in his senior years become a musician again," says Kimmel. "Being able to do that might make me more happy than anything.")
Then, of course, there's McNearney. To those who know Kimmel, it makes sense he'd wind up with a co-worker who shares his sense of humor and intense schedule. He started dating her after he and comedian Sarah Silverman broke up in 2009. (He and Silverman still get along. "We have a good relationship," says Kimmel. "We're like brothers.") McNearney joined Live in its first season as an assistant to an executive producer and worked her way up. "We promoted her to co–head writer, and then about a year later we started … um … if you know what I mean," says Kimmel. "I didn't want to date my boss," says McNearney. "And I'm pretty sure my boss didn't want to date an employee." But they were both single, she says, and "you can't ignore feelings you have." He proposed in August on an African safari the couple took with his kids.
Outside of work, Kimmel's interests are simple and domestic: fly-fishing, online shopping, gift-giving, novelty-T-shirt design, and cooking (he owns over a thousand cookbooks and recently bought and demolished the house next to his in West Hollywood to build a chicken coop). He's also bragged in interviews about his lovemaking skills. "I have no basis for comparison, and maybe I'm delusional, but yeah, I think I'm pretty good at it," he says. "You'll have to ask the four women I've had sex with." We've already identified three—who was the fourth? "The one I lost my virginity to, we did it twice," he says proudly. It was another workplace affair: He was 17 and working at Miller's Outpost, a mall clothing chain. She was married and his boss. "I lost my virginity in the parking lot of an InterContinental Hotel. Pretty sordid," he says, grinning. "I think it was revenge because she had caught her husband cheating on her with someone who worked for him."
What does Kimmel bring to the table as a lover? "Determination, speed," he says. "Sometimes when it gets going, I'll look at the digital clock, and then when it's finished I'll pound my hand on the bed and go: 'Four minutes!' I can't resist saying something stupid within the minute it's over. It's really, like, a great time to say something funny, because it's unexpected every single time."
So even if the move to 11:35 doesn't work out, he's guaranteed at least one laugh a night (if he's lucky). And it is a risky move—remember Conan? "I know what the reality is," says Kimmel. "If it doesn't go well, they'll kick me out." But he's excited to try. Besides, "I think the people who run ABC are smarter than the people who run NBC."
If this were all over tomorrow, Kimmel says, "I don't think I would miss going onstage at all. For me the fun is writing the stuff, coming up with the ideas. They're not going to have to drag me out of the studio. I know I'd be very lucky to do it another ten years. That would be perfect for me. Maybe when all of my hair is gone."
*This article originally appeared in the October 29, 2012 issue of New York Magazine.