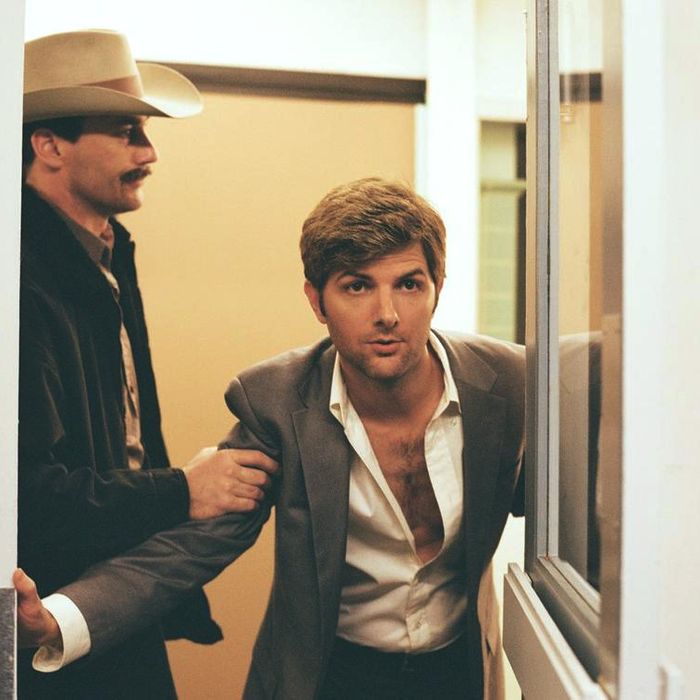 Jon Hamm and Adam Scott in The Greatest Event in Television History
Photo: Adult Swim
Last night, Adult Swim finally unveiled its top-secret, long-teased Adam Scott/Jon Hamm special collaboration, The Greatest Event in Television History. Though the network had leaked a photo of the pair shooting in motion-capture suits, and Scott himself tweeted pics of him and Hamm in fighting mode and in dance rehearsal, just what this momentous "event" would be had been kept under wraps. This summer, when I interviewed Adam Scott (who co-directed the ten-minute video) for a New York Magazine feature, he said he wanted it kept vague so it would "be extra-weird when it airs." Well, it aired, and it was indeed extra-weird: The Greatest Event in Television History turned out to be the two friends starring in an elaborate shot-by-shot re-creation of the opening credits to the eighties private-eye series Simon & Simon, and it was preceded by a detailed making-of video hosted by a tuxedoed Jeff Probst. Mustaches were worn, guns were pulled, and America will never be the same.
According to Hamm, the project was born out of boredom and mutual goofing off. "Adam and I and a lot of our friends tend to send very stupid things to each other via e-mail," he told me earlier this summer. "At some point, a year or so ago, we were sending things back and forth with the subject heading of 'You should be in this' or 'I have the next project for you' or whatever, then sending some dumb trailer of some dumb eighties television show. We're not very sophisticated at our humor. But here we are." (Another mutual unsophisticated friend, Paul Rudd, appears as himself, directing the project and letting loose an impressive bodily function.)
Hamm continues the origin story: "Literally, Adam sent me the trailer for Magnum, P.I. or something and said, 'We should do something with this' and we both kind of wrote back at the same time, 'No, we should do Simon & Simon.' We both had this idea at the same time. We were like, 'Holy shit, we should definitely do something now. We should remake this shot for shot.'" Says Scott, "Opening credits sequences are kind of a lost art now, because when you're a kid, you're just watching opening credit sequences over and over again, and that's what you remember, and this one — it kind of seems like the One … It's kind of untouched, so it's a fun one to do."
A couple of weeks after their e-mail conversation, Scott e-mailed Hamm to let him know that he wanted to actually go through with the idea, and they convinced Adult Swim to pay for it. "Over four days, we did this insanely ambitious, ultimately pointless thing that I think is really funny and weird," says Hamm. They found all the original Simon & Simon locations and wardrobes and even rented a helicopter crew to replicate the shot of original Simons Gerald McRaney and Jameson Parker driving on the freeway to San Diego. "It was a weirdly large amount of work for one minute of what ended up being the credit sequence." says Scott who, when he clandestinely gave me a sneak peek of the special this summer, said, "Watching it back, it's just so stupid." Which is why Scott said he and his wife, Naomi, would likely be producing more of these greatest events as an Adult Swim series. Perhaps Hardcastle and McCormick devotees will finally get that homage they've been praying for.