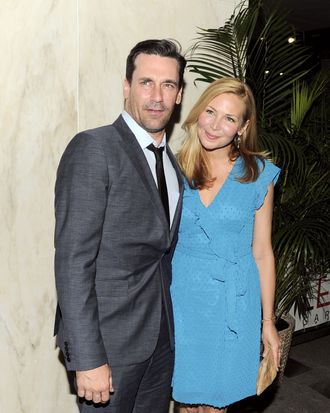 Photo: Nicholas Hunt/PatrickMcMullan.com
Power couple Jon Hamm and Jennifer Westfeldt attended a special screening of Brooklyn Castle this week, showing their support for the teachers and students of I.S. 318, a junior high school in Brooklyn that has the best chess team in the country, but almost lost it owing to budget cuts. (The documentary is in limited release October 19.) "I think you'd have to be made of stone not to care about this story," Westfeldt told Vulture at the screening. "It's a perfect storm of inspirational people getting together, doing things for the right reasons, and fighting the good fight," Hamm added. And although neither of them is very good at chess — or so they say — their reputation for being extremely competitive game players precedes them. And so Vulture pressed them on their love of winning, which somehow led to talk of baseball. Here's how that went down, cute lovebird-banter included.
You have this reputation, Jon, as being very competitive. I'm wondering if that's just the roles you play?
Hamm: No, it's because I'm super-competitive.

Okay.
Westfeldt: In sports in particular.
Hamm: But Jen is as competitive as I am, just not in sports. Just in games that we play: Words With Friends or Scrabble with friends. In fact, she will quit a game if she's not going to win.
Westfeldt: That is so not true!

So when you're with friends, do you find yourselves still playing these games?
Hamm: I play a lot of competitive sports, because I think I'm still in my twenties.
Westfeldt: You're a very good athlete.

What are your sports?
Hamm: I play tennis, I play baseball.
Westfeldt: Softball.
Hamm: I play anything I can. Softball is an extension of baseball.

You're actually a prominent Cardinals fan.
Hamm: Yes.

So how do you feel about the playoffs this year?
Hamm: Well, we're tied, 1-1. We have to take two out of three on the road. We'll see: We've done it before, we can do it again. We've done it as recently as last year's World Series. I remain confident.

How do you feel about the other teams this year?
Hamm: I always root for the underdog, unless it's directly opposed to my team.

There are a lot of underdogs this year: the Orioles, the A's, the Nationals. You're rooting against the Nationals right now, but …
Hamm: I'm not rooting for the Nationals, but I am rooting for the Orioles and the A's. The Cincinnati–San Francisco series doesn't have an underdog, so I hope they both lose.

St. Louis won in 2006. They won last year. If they win again this year, are you worried about a sense of creeping entitlement in St. Louis?
Hamm: No, it will never happen. St. Louis doesn't have that; it really doesn't have the capacity to do that. We're not the Yankees. We never will be the Yankees — it's impossible. We just don't have it in our DNA. It just doesn't work that way.

Midwestern nice.
Hamm: It's also that we just don't buy players. We farm them.

It's interesting, you lose Pujols …
Hamm: Arguably the best player in baseball, we lost, and we're back in the playoffs. We just work hard.
Westfeldt: Don't get me started on the walking. I became very angry last year. The walking editorial I wanted to write …
Hamm: Jen wanted to write an editorial about the intentional walk.
Westfeldt: I hate the intentional walk. It makes me furious.

You should write the article.
Westfeldt: But then they won, so I didn't have a leg to stand on.
Hamm: I challenged Jen to write an article, an op-ed.
Westfeldt: On Pujols, I wanted to write an op-ed, but then they won, and you can't even have a leg to stand on. You can't, like, talk about it.

Well, there are a lot of baseball nerds who argue that most of the time the intentional walk is a bad idea.
Westfeldt: It's just bullshit.
Hamm: Play the game.

Play the game! Exactly.
Hamm: Write that op-ed, and if it gets published …
Westfeldt: No, no, baby, but then they won.
Hamm: What was my thing? If it gets published, I would what?
Westfeldt: I can't remember. What was your promise?
Hamm: I don't remember what it was, but it was something I would do for you.

It would be something embarrassing for you, Jon? Or something good for her?
Westfeldt: We can't remember!
Hamm: I think it was something about money.
Westfeldt: No, baby. It wasn't money.