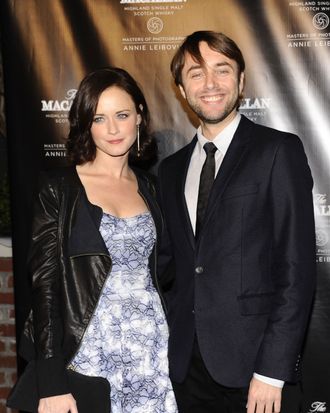 Vincent Kartheiser.
Photo: CLINT SPAULDING/?? Patrick McMullan
Earlier this week, we talked to Jon Hamm and Jennifer Westfeldt about how much they love to win. We enjoyed the conversation so much that when we caught up with Mad Men's Vincent Kartheiser the very next day at the launch of the Macallan Masters of Photography collection at the Bowery Hotel, we decided to pull at that thread a little more: What could Kartheiser tell us about Hamm's competitive streak? "We play dominoes [on set]," he told us. "I beat him once, three times in a row, and he got up and was like, Uuuurrrrghhhh. And I was like, 'Yes! I am better than Jon Hamm at dominoes!' And then he beat me for, like, a week straight, four times a day. And then I was like [assuming a manservant voice], 'Okay. Thank you, Mr. Hamm! Back in my place as Omega male.'" Does that mean Kartheiser — who was at the event with Mad Men guester and real-life girlfriend Alexis Bledel — isn't all too competitive himself? No, he told us; he's competitive about "everything."
"I played football the other day with a bunch of dudes, and everyone else is tall and athletic and cool and barely trying. Like, Oh yeah, touchdown. And I was running balls-out, and of course not doing half as well as any of them. Which is the worst, when you're really, really trying and you're still not as good as the people who are just phoning it in." The worst: Pete would totally agree.