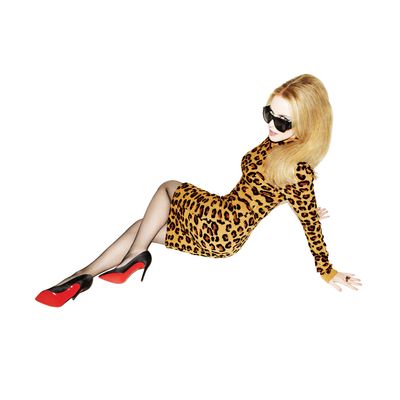 Photo: Matt Irwin/Trunk Archive
What in God's name is Kylie Minogue doing in a Leos Carax film? "I'd ask myself the same question," says the Australian pop star, relaxing in her Soho hotel room before the New York Film Festival premiere of Carax's wild, obstinately hard to figure out Holy Motors. The French director may not be a household name, but it probably suffices to say that his dark, romantically tragic oeuvre stands in sharp contrast to the candy-flavored club songs and scantily clad music videos for which Minogue is best known. "I've said 'Kylie means joy' throughout my career," she says. "But I can't always be this presentation of myself. So now I'm filling up my lungs a bit, feeling like I can breathe a little. It makes me feel more whole."
To be fair, Minogue, 44, is no acting novice. She first came to popular attention in Australia as a teen on the soap Neighbours and has appeared in movies like the Jean-Claude Van Damme action vehicle Street Fighter and Baz Luhrmann's Moulin Rouge. But her role in Holy Motors is a different beast. The surreal film is about a man named Monsieur Oscar (Denis Levant), a sort of spiritual hit man who rides through Paris in a limo and inhabits wildly different characters in different situations—a father picking his daughter up from a party, a troll-like madman kidnapping a fashion model, etc. We know little about him, but toward the end of the film, he meets and sings a duet with Minogue's character, Jean, a fellow actor-spirit-metaphor with whom he appears to have had a painful romance in the past.
Climaxing on a rooftop, their melancholy scene is the point at which the film pivots from fever dream to personal meditation on loss and hurt. ("Oscar" is Carax's real middle name, and the whole film is haunted by the specter of actress Yekaterina Golubeva, the director's partner, who died last year.) If their duet doesn't work, then neither does the movie—and the whole thing rests on Minogue's tiny shoulders.
Given that, it's surprising Minogue and Carax didn't do much courting before she took the part. The pair were introduced by a mutual friend, Claire Denis, who directed films like White Material (Denis herself is currently developing a movie with Minogue in mind, says Minogue). The actress was mostly unfamiliar with Carax's work, and all he knew of her was the video for her 1996 duet with Nick Cave, "Where the Wild Roses Grow," in which she played an Ophelia-like woman drowned in a lake. Asked about casting her, the press-shy Carax has been characteristically cryptic: "We met, and I thought she was an angel I needed. That's it," he told a London audience last month.
Before she knew it, Minogue was on a plane to Paris, sans her usual entourage. "I went on my own. I wanted to feel like I did when I was a working actor, just a person going to do a job." That's not to say she didn't have her doubts. This could be a big mistake for Carax, she recalls thinking to herself. You're either a real genius or barking mad.
A couple of days before they shot the scene, Carax gave her a letter. "He reassured me and said, 'I know you're more confident as a singer than an actress, but this can be a good thing,' " she recalls. Carax didn't discuss backstory, but he did say that these characters' "past is so painful that nothing they say is going to put a Band-Aid on it. So they sing." Whatever else he told her seems to have worked, if standing ovations for the movie at Cannes and the New York Film Festival are any indication.
So has her foray into art-house cinema affected her own music? Minogue's latest album, The Abbey Road Sessions, featuring orchestral arrangements of her greatest hits, comes out next week. "I recorded that directly after I'd done Holy Motors, so I was feeling pretty liberated," she says. "There's a bit of me that was slowly starving, and I feel like I'd just had my first decent meal in a while."
Holy Motors. Directed by Leos Carax. Indomina Releasing. NR.
*This article originally appeared in the October 29, 2012 issue of New York Magazine.