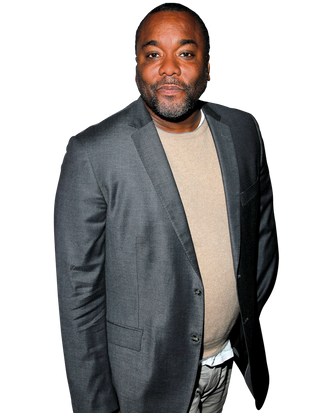 Lee Daniels.
Photo: Jemal Countess/Getty Images
Lee Daniels doesn't do things by half measures: Like Daniels himself, the movies he makes are bold and audacious, from his supersaturated debut Shadowboxer to the Oscar-nominated Precious, with its immortal, volcanic performance from Mo'Nique. His latest? The sexy, sweaty crime drama The Paperboy, starring Zac Efron and Matthew McConaughey as two brothers attempting to unravel the case of a man on death row (John Cusack) with the help of Nicole Kidman, a white-trash crime groupie who lusts for the brute. The film already set Cannes ablaze this past summer with several instantly notorious scenes, including one where Kidman brings herself to orgasm simply by sitting across from Cusack in a prison meeting room and another dreamy interlude where the actress pees on Efron to relieve the pain of a jellyfish sting. Daniels rang up Vulture in between shooting scenes for his next film, The Butler — a decades-spanning White House drama starring Forest Whitaker and Oprah Winfrey — to candidly explain how he put it all together.
Take me back to Cannes. What was it like when you got that long standing ovation after the premiere?
I didn't appreciate it like I should have, because, prior to that, I had read a review. [Laughs.] So I didn't think I deserved the ovation! There had been a press screening prior to the premiere, and as I was putting on my tie to walk out the door, my publicist said, "The Hollywood Reporter's in, and it's good. Do you want to read it?" Ordinarily I don't — I read one negative review for Precious, and it crumpled me — but he read it, and I said, "Oh, that's nice." And then as we were getting in the elevator he said, "Oh, and Variety's in, do you want to read that one?" And I literally spit in my fingers and rolled the dice in the elevator and said, "Sure." And by the time I got to the first floor, I was in the fetal position. [Laughs.] I called Nicole and said, "Nicole, they hated us! What are we doing here? How did we even get into Cannes?!" And she said, "Well, you know, Lee, they boo people at Cannes." We had gotten a ten-minute standing ovation for Precious, so the concept of being booed … I'm telling you, I walked the red carpet after that, and if you really study those pictures, you see a kid who was abused by his dad. I retreated to that place.
Nicole strikes me as an actress who totally gives herself over to the director.
It was almost identical to my relationship with Mo'Nique. But I was nervous! I had not met Nicole before, and I was intimidated, to be frank. I think she smelled it in the beginning, and she said, "I'm just a working girl, Lee. You've got to direct me." And I said, "Okay," and on the first day, I said, "Bend over the washing machine. Bend over, baby!" because that was her sex scene with John. And then the second day was her telepathic sex scene, and then the third day, she was peeing on Zac. You know, I love women, and I love women who get me. If you get me, the party's on! We would feed off of each other, and eventually I wasn't even talking to her: I would just look in her eyes and grunt things, and she knew exactly where my head was at. It's like making love when you have that relationship, except you're not physically having sex. You have a partner. You're one.
Who was more nervous about the peeing-on-the-beach scene, Nicole, Zac, or you?
None of us! No, no, none of us. We just went for it and never thought twice about it, because it made sense for the film. It was what it was. I think that I became more nervous about it in the edit room, and I thought, I'm not actually going to show this, right? Is it vulgar? And I called Nicole and said, "I don't know," and she said, "Lee, you made me pee on Zac Efron. If you don't put it in the movie, you need to man up." And I was like, "All right, I ain't gonna pussy out! Okay."
But then later, you start up a romantic sex scene later in the movie with Nicole and Zac, and then Macy Gray says in the narration, "I think we've seen enough of that," and the movie cuts away. I have to say that I did not see enough of that sex scene.
I was nervous at that point! I did check out. I always do all the tough and physical scenes up front in my films, but I had forgotten about that scene because everything else was so hard-core, you know? This was a love scene and soft, but by that point, I'd become very protective of my actors. We'd become intimate friends, and I could tell them to get raw and raunchy when I didn't know them as well, but as we grew to become like a family, it was awkward for me to watch [the sex scene]. I felt like Nicole had given me everything — she'd spread her legs, she'd fuckin' peed on Zac — and I know they would have went for it, but I felt like she had done enough for me. It would have been pushing things too much.
Let's talk about Matthew McConaughey, too. He's had this crazy, career-redefining year, in part because of this movie.
I gotta tell you, I'm so proud of what he did and where he went for me, because he's so not that guy. [SPOILER ALERT] When he is looking up to those black men, those mandingoes, and he's butt naked and salivating for more, it touched me. Everything I put into this movie, I know. In the eighties, I would date these white guys, and I dated a guy who killed himself. He was from the South, and he was dealing with his parents, who'd rejected him, and he was racist. He was taught to be racist, and he crossed that line by going to a place with me, and he hated himself for it. [SPOILER END]
Have you shown The Paperboy to Oprah yet?
Oprah's going to see it at the premiere. No. [Big laugh.] I offered her the Macy Gray role! And she said, "No, I'm not playing this. I'm not gonna do this." We went back and forth with it, and then I got her for The Butler — which, by the way, is on some other level. Brace yourself.
I am bracing myself! I love that you cast Jane Fonda as Nancy Reagan. When I heard that, I thought, Only Lee Daniels could pull that off.
Brace yourself! She and Jane have a moment that is historic. It is beyond, and I'm really excited about that.
How do you feel about working with Harvey Weinstein on The Butler?
I'm just honored that he thought enough of me and my material. I really am; I'm humbled by it. I see the flaws in all my material, so I'm my own harshest critic.
Maybe not harsher than the Variety critic.
[Laughs.] Oh yeah, Variety. You can't read that shit, you know what I mean?