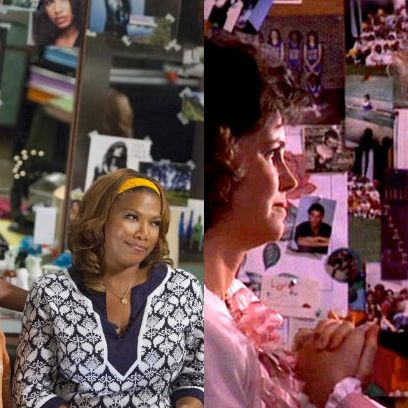 Lifetime's TV-movie remake of the beloved 1989 film Steel Magnolias had the same unnecessary-bordering-on-sacrilegious quality as ABC's 1998 remake of Rear Window starring Christopher Reeve. Did I enjoy it? Yes, sometimes I did. That said, I watch Smash. I can quote things that Honey Boo Boo's mother has said. Five years ago, I voluntarily attended an abysmal elementary school production of Pippin – having no connection to anybody in its cast — and laughed more than I winced. I've seen Riding the Bus With my Sister five times, and I've never seen Lawrence of Arabia. I suppose my point is that, when it comes to taste, I am an unreliable narrator.
But even though it was campy garbage, the Magnolias remake sadly added up to no more than the sum of its parts, which were treacly cogs clumsily manipulated into the length of a TV movie with all of the usual Lifetime fixins strewn at commercial-break-appropriate intervals. But this is a generality, I realize. How precisely was last night's Lifetime movie, based on a really good movie (that was based on a classic play) different than the One With Olympia Dukakis? (The name of my favorite Friends episode, BTW.) Let's take a look at nine important differences: Eight in the original's favor, and one against.
1. In the new version, Annelle never got a makeover that was later inexplicably reversed.
In the original film, Annelle, played by Daryl Hannah, got Trudified in time for the Christmas festival, then had a makeunder a few scenes later, around the same time she found Christ. In the remake, Annelle, as played by Adepero Oduye, never even got remade in Jill Scott's image. Was that omission a tip of Alfre Woodard's wig to logic? It's not our job to know. Sometimes you have to answer complicated questions about mustache wax with vague truisms like "It makes you pretty."
2. That Armadillo cake didn't look much more grotesque than anything you'd see today on a cake reality show.
In the original film, the hideousness of the groom's cake was a crucial plot point and a set piece, proving that M'Lynn and Shelby had agreed on just one thing before the wedding: that the red velvet armadillo with gray frosting was revolting. But in the remake, that cake didn't look any less disgusting or stupid than something you'd see made on Cake Boss or Top Chef: Just Desserts (Invertebrate Challenge!). How our cake culture has progressed, and also descended, in a matter of decades.
3. The Remake boasted references to Beyoncé, Weapons of Mass Destruction, Playstations, Michelle Obama, Facebook, and Bridezillas!
If only they'd taken the scene from the original in which the new mayor's wife danced in a $500 dress, but in place of the hubbub that she was going girdle-less, swapped in chatter that she was "wearing no Spanx!" Then they could have assembled the complete set of reasonably modern references gettable by moms across the nation.
4. Instead of a "circle of life" moment with Annelle going into labor, the remake ended with some hurried black-and-white footage of Shelby under a cheesy voice-over.
As far as I know, movies — even TV movies — are not produced on the fly like late-night talk shows. So why did the proper ending of this story get bumped like it was a third-tier cast member of NCIS with a funny story about her new tattoo? The impact of Shelby's stated desire that she'd rather have "30 minutes of something wonderful than a lifetime of nothing special" doesn't have as much impact when it's followed, moments later, with that precise statement in voice-over over black-and-white clips from the movie we just endured. Also, how can I campaign for the network to change its motto to "Lifetime: Nothing Special"?
5. Ouiser had a black dog instead of a St. Bernard.
The Lifetime version had a nearly all African-American cast. But who made the call that the animals in the remake should comply to the hues of the leads? I had to go back to the 1989 film to make sure the birds Drum shot out of his trees were blackbirds, as they were in the remake. If they'd changed them from doves or something, the foundation of our post-racial society would have exploded like it had been hit by a cross bow, tied up with fireworks.
6. Latifah. Latifah. Latifaaazzzzzzzzzz.
As M'Lynn, Latifah asked her son-in-law if he wanted "mayo or mustard" on his sandwich with the same emotional gravitas she used to comfort her daughter before kidney surgery. Her Cover Girl commercials had more conviction. And when she delivered her "Texas and back" monologue, my cat hid under the bed because the roar of all the gay men in New York City groaning "BITCH, NOOOO!" at once overwhelmed his little pointy ears. I've never found extreme fault with Latifah's acting to date, but in this role, she was both onenote and tone-deaf. I bought a case of Boniva this morning just to make sure Sally Field knows how much I appreciate her.
7. Claree wasn't bananas.
Phylicia Rashad had the same prideful serenity with which Olympia infused her 1989 performance, but not the maniacal battiness. I watched the original film again, and I'm pretty sure Dukakis' sClaree is high the entire time.
8. Jill Scott as Dolly Parton.
The minute they passed over Jackee Harry for the part of Trudy, the producers of this remake were already down a slippery slope. I'm usually a fan of Scott's acting — she was extraordinary in The No. 1 Ladies' Detective Agency — but her crapola Blanche Devereaux impression was only upstaged by her bizarre body language. Leading with the breasts isn't the same as leading with the heart. On the other hand, she had big shoes to fill. (Yes, shoes! Not everything said about Dolly Parton has to do with her top assets.) Parton's performance in Steel Magnolias paralleled Cher's in Moonstruck as one of the best-ever singer turned actor feats ever committed to film. So, to be fair to Scott, Parton's legacy loomed large. Like her breasts. Oh, there I go.
9. To its credit, the new version had more racial diversity.
There are no black people in the original film, barring the one or two bare-assed football players in the locker room scene with Claree and Ouiser. Which is embarrassing. However great it was, the 1989 movie was as monochromatically white as Jack Jr.'s hair. In the new version, Ouiser's romantic interest is Caucasian. The Lifetime remake's acknowledgement that people of color do not live in air-tight, homogenous communities is the one way it surpassed the original. While last night's debacle was not great, its intentions were. But sadly, mediocrity is color-blind.