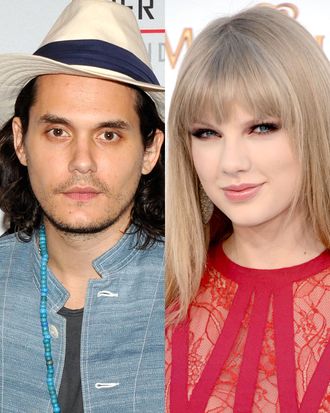 John Mayer at Tiger Jam 2011 at the Mandalay Bay Events Center April 30, 2011 in Las Vegas, Nevada. Taylor Swift at the 2012 Billboard Music Awards held at the MGM Grand Garden Arena on May 20, 2012 in Las Vegas, Nevada.
Photo: Ethan Miller/Getty Images; Frazer Harrison/Getty Images
Taylor Swift has (a) a habit of dating musical types, (b) a habit of breaking up with them, and (c) a habit of writing songs about breaking up with guys who sound suspiciously like those same musical boyfriends she just broke it off with. So when she ended things with Grammy award-winning guitarist John Mayer and released a track titled "Dear John," it was only a matter of time until Mayer admitted to Rolling Stone magazine that the song (which he clearly thought was about him) "really humiliated him" and "made me feel terrible." Swift's reaction in this month's issue of Glamour: "How presumptuous! I never disclose who my songs are about." So just back off there, Mayer, and be glad you're in good company — a.k.a. Jake Gyllenhaal.