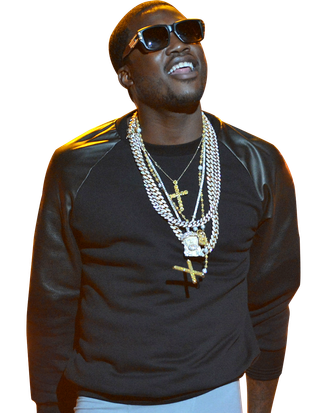 Meek Mill
Photo: Rick Diamond/Getty Images
Equal parts goon and pretty boy, Meek Mill balances well-earned street cred with mainstream appeal. Between a run of successful mixtapes, he's traded verses with the likes of his mentor Rick Ross, Drake, and Mariah Carey. And now his debut, Dreams & Nightmares, is out. After a long day of promo for it, Meek slumped into a plush couch at his record label in midtown and spoke to Vulture about voting, pot, and Jay Z's lost verse.  
You're known for having a very aggressive flow — almost yelling — as evidenced on Dreams & Nightmares. Do you have anger issues?
Nah, I'm a chill guy. But I be angry sometimes. Haters sometimes make me angry. Not too much make me angry though. I live a happy life.
Good to hear. You're part of Rick Ross's Maybach Music Group (MMG) and signed to Jay-Z's Roc Nation management. What advice has Jay imparted on you?
He said, "You hot." That's enough for me. [Laughs.]
Um, that's a compliment. Not exactly words of wisdom …
Yeah, but that's a compliment that gives you motivation and inspires you, so it's like words of wisdom, almost.
I know that Jay-Z originally recorded a verse for "Lay Up" on your album, which he ultimately nixed because he thought it was wack. You have that verse on your iPod still. Honestly, was it bad?
No, it's wack to him. All the girls liked it, but he said that girls just love his voice. I couldn't fight back no more.
You're slated to hit the road for the MMG Tour along with Ross and Wale. Your friend and fellow artist Machine Gun Kelly shared with me that he planned on you guys bonding over smoking weed.
Yeah, I don't smoke.
I just saw you smoking at Electric Lady Studios in NYC a few weeks ago.
Nah, that was probably Black & Milds or something. I'm on probation. But yeah, when I get off probation, I'm gonna smoke.
Do you have anything to replace the smoking ritual? Maybe eating Ben & Jerry's?
Nothing. Just don't smoke. I ain't smoke in years — in like four years — so yeah.
The presidential election is coming up. Will you be voting?
Uh, yeah. Last time I tried to vote, they said I couldn't vote because I was a felon. But I'mma try. I'mma attempt definitely this year.
You actually have an MMG show that day …
Oh yeah. [Laughs.] I don't be knowing the schedule nine times out of ten. It's still possible to make time for that [voting].
President Obama recently said that he listens to Jay-Z's "My First Song." Personally, I think he should make appearances to your "I'm a Boss." Can we make that happen?
Yeah, that's what he should listen to. So when he come out … when he listens to that, he definitely won't be played with.
Rappers have been enjoying strong first-week sales as of late, especially Kendrick Lamar and Macklemore. How many copies would Dreams & Nightmares have to sell in the first week to make you happy?
Five-hundred thousand. Big dreams. I always have big dreams. Three million downloads on Dreamchasers 2 was big dreams, too, wasn't it? But it happened. Anything's possible.