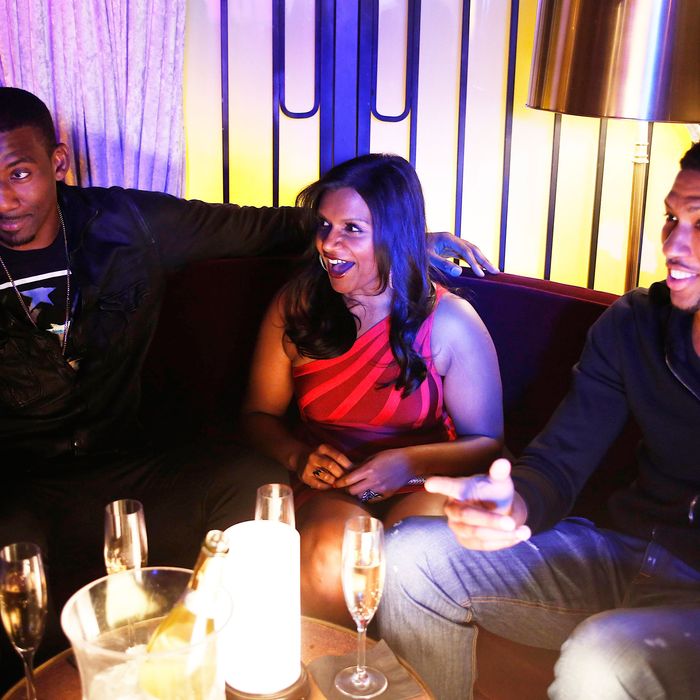 Things started out about how I expected them to once I heard the ob-gyn gang was hitting the meatpacking district club scene. (Though I always enjoy watching others do that more than having to do it myself, whether or not their jokes are down-the-middle.) Mindy got her red wine with ice because they didn't have sangria. Dr. Hot Brit was accused of "using the voice you use when single moms come into the office." The mousy assistant, Betsy, ordered a full bottle of a ridiculous blue beverage that Dr. Danny said, accurately, looked like the "stuff [they pour] on maxipads in commercials." We knew it was only a matter of time before Betsy — played wonderfully enough by Zoe Jarman, whom I just realized I recognized from the underrated ABC Family show Huge — was stumbling drunk.
Same with the gag about Nurse Morgan taking over as the bathroom attendant, which announced its arrival as soon as he started primping with his giant bag of toiletries. Nonetheless, Ike Barinholtz — an alum of MADtv and Eastbound & Down — kept the joke aloft with his improv-honed timing. ("Hello, welcome. Welcome to the bathroom.")
The episode gained momentum from there. In its short run, Mindy has proved very good at lampooning girly culture. See: Kaylee's Bridal Angels. Something else it does very well is take shots at its leading lady. "I told you, black guys love me," Mindy told her office friends, setting herself up for a smackdown. "I'll see you Monday." So we thought something would go awry once Mindy was mysteriously beckoned to the VIP area full of pro basketball players, but instead, things went shockingly well. That's what makes her an interesting female character. She can command a situation quite nicely when she wants to; the question is why she so often doesn't.
The surprises began as she approached the velvet rope. First she stopped on the dance floor to drop us another quick hint that romance was on the horizon with Dr. Danny. During a surprisingly friendly exchange with her sometime nemesis, who it turned out could really dance, Danny asked her offhand to grab a drink with him. But she told him she had other plans with the pro ball players, and Danny, of course, ended up making out with some random girl. Mindy also, interestingly enough, seemed to play a little dumb about sports during the exchange, referring to "Mr. J." Danny corrected her, "Doctor" — she took it as a sign of respect that he'd call her "Doctor." But I'm suspicious of a girl who claims to not know "Dr. J" but can identify the Knicks' Amar'e Stoudemire on sight.
In any case, poor Betsy did get stumbling drunk, though at least that gave us Mindy's great way to distract her: giving Betsy her cell phone and instructing her, "Just unsubscribe me from e-mail newsletters. But keep the shopping ones." And Mindy did get a surprise in the VIP area. A nerdy-cute white lawyer was the one who'd beckoned for her, and he opened with a line about her looking like the mistress of a congressman: "It's a compliment."
The VIP time culminated in a coffee klatsch convo with the ball players about — what else? — romantic comedies. One said he liked Splash: "You know, the fantasy about going underwater and looking for love." (And we also got the obligatory You've Got Mail ref.) Somehow this quickly segued into a discussion about how green tea was better for training than coffee. The guys all sort of adorably noted white laywer Josh's best qualities, helping to win Mindy over; apparently Josh makes terrific workout playlists.  "I never knew this was what being a VIP was like," Mindy cooed. "This is sooo cool."
Amar'e Stoudemire tried to call out to Mindy about leaving her pashmina, which at first I took to be just one too many jokes about the ballers liking and/or knowing about girl things. But that came with a worthwhile parting line when Mindy decided to stay behind at the club with her work crowd, who clearly needed her, instead of going to the after-party with her new friends: "I think Amar'e Stoudemire might have stolen my pashmina." (One would be safe to assume this exact combination of words has never previously been uttered before.) It also came with a sweet resolution: a driver returning her wrap to her later, with a note from Josh, who may just be a keeper — at least for a while. After all, he's got something going for him none of her other suitors has thus far: The actor who plays him doesn't have a day job at Saturday Night Live.
Bonus points for:
"Apparently Jamie Foxx has taken charge of the pizza oven, and the toppings are getting weird."
"Okay, I just have to have my parents wire me $300. But first my aunt has to wire them $200."
"Diarrhea shuts it down."
Mindy staying behind to help Betsy and Shauna. Look, she's growing!