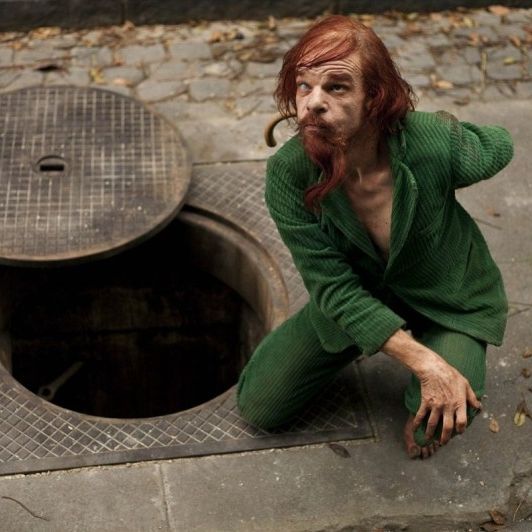 Photo: Pierre Grise Productions
To my shame, I misread the early work of onetime wunderkind and festival darling Léos Carax as that of a poseur whose disregard for storytelling suggested the most suffocating sort of cinephilia — cine-solipsism. He might well be a solipsist, but he's not a poseur. This is how Carax expresses himself, and he does so without a wasted, impersonal, non-passionate shot. His latest film, Holy Motors, is typically confounding but on every level that matters a work of unfettered — and liberating — imagination.
It's also a showcase for the stupendous Denis Lavant, who plays Monsieur Oscar, a man of one ­thousand faces who's driven in a long white limo (by the trim Edith Scob) from one job to the next (along the way removing and applying makeup and appurtenances), assuming various roles in assorted people's lives. (His face, rather puttyish in repose, seems less so under putty.) It's sometimes unclear who has hired him or what his ultimate function is — or, in a couple of cases, whether he has succeeded or failed in his appointed task. Set in a vague, rather depersonalized future, Holy Motors emerges as a cry for intimacy — as seen through the eyes of an artist who can only fleetingly fill the void.
Among Lavant and Monsieur Oscar's impersonations: a sort of deformed, feral dwarf who carries off a supermodel (Eva Mendes) and dresses her in a burka; a ninja warrior on a Star Trek–holodeck–like set, his acrobatic fight with a tall female athlete (Zlata) subsequently transformed via CGI into the (much less interesting) attack of a phallic dragon; a father picking up his awkward teenage daughter (Nastya Golubeva Carax) and cruelly berating her for telling an innocent lie; a superrich banker; a babbling crone; an old man on his deathbed in a scene lifted (with acknowledgment) from The Portrait of a Lady. He's an assassin who brutally kills a look-alike: his twin? His parallel-universe self? He's the long-ago love of a woman — Kylie ­Minogue! — who wanders around an abandoned department store (broken mannequins abound) and warbles a plaintive song about a lost child. One gives up connecting the dots — or ought to, since that way lies not madness but an overabundance of sanity (the hobgoblin of literal minds).
At a New York Film Festival press conference, an anti-expansive Carax (he radiated discomfort) said that he was forced owing to lack of money to shoot on digital video — but that he hasn't much cared about celluloid cinematography since the death in 2003 of Jean-Yves Escoffier, with whom he had his most intimate artistic relationship. I sympathize with his loss, but in the long run it might be freeing for Carax to think less about lighting and color and more about how his characters inhabit the space and connect — or don't — with each other. Have I mentioned how amusing the movie is? There's a wry streak in the older Carax, terminally morbid but more than half in love with the crumbling and transitory. In Holy Motors, he's death-wishing on a star.
This review previously appeared in the Oct. 22 issue of New York.