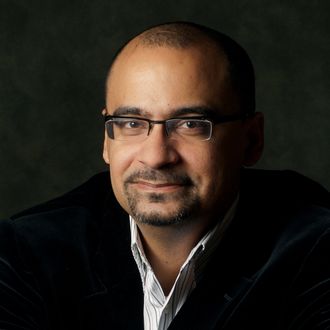 Photo: Ulf Andersen/Getty Images
This morning, the National Book Award finalists were announced on Morning Joe. (Nice scooping, Jo-Scarbs.) For fiction we have: Junot Díaz, This Is How You Lose Her; Dave Eggers, A Hologram for the King; Louise Erdrich, The Round House; Ben Fountain, Billy Lynn's Long Halftime Walk; Kevin Powers, The Yellow Birds.
For nonfiction: Anne Applebaum, Iron Curtain: The Crushing of Eastern Europe, 1945-1956; Katherine Boo, Behind the Beautiful Forevers: Life, Death, and Hope in a Mumbai Undercity; Robert A. Caro, The Passage of Power: The Years of Lyndon Johnson, Volume 4; Domingo Martinez, The Boy Kings of Texas; Anthony Shadid, House of Stone: A Memoir of Home, Family, and a Lost Middle East.
For young people's literature: William Alexander, Goblin Secrets; Carrie Arcos, Out of Reach; Patricia McCormick, Never Fall Down; Eliot Schrefer, Endangered; Steve Sheinkin, Bomb: The Race to Build—and Steal—the World's Most Dangerous Weapon.
And last but not least, the poetry finalists: David Ferry, Bewilderment: New Poems and Translations; Cynthia Huntington, Heavenly Bodies; Tim Seibles, Fast Animal; Alan Shapiro, Night of the Republic; Susan Wheeler, Meme.
The winners will be announced on November 14, which, in a sad coincidence, is also when the last Twilight movie premieres.