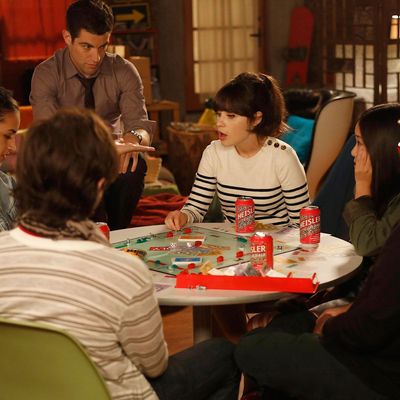 Kids today! They have names like Chaz and Fife and Sutton and Brory, and they get excited about artichokes and Hula-Hoops, and they think Family Matters is a low-budget web series. They're baffling, unless of course you're one of them, in which case the really baffling people are those slightly older folks who understand how to operate the dishwasher.

Previous New Girl episodes have dealt with growing up — or not growing up, as the case might be—through the figure of Russell, Jess's sophisticated older boyfriend. But last night went in the opposite direction, bringing in a bunch of early twentysomethings whose insouciant scarf-wearing and half-serious threats to move to Prague make our four heroes feel approximately 100 years old.
But first: Jess has a job! It's at the Casserole Shanty, also known to the people who work there as the Asserole Shanty. There's a visor involved, and a dorky polo shirt, and enough crushing of dreams that Jess has taken to overdosing on TGIF reruns in order to cope. The upside is that she's perfected her Urkel impersonation — and you should hear her Frasier Crane. There's a bit of a tribute to New Girl's half-hour sitcom forbears in this bit. Maybe twenty years in the future, the sex robots on the local Fox affiliate will be showing off their Schmidt impressions, or at least putting bitcoins in their vintage Urban Outfitters douchebag jar.

Jess may be facing a temporary crisis of confidence, but it's nothing compared with the mass of insecurity that dogs Schmidt every day. When a bunch of trendy twentysomethings move in down the hall, they trigger all of his issues. Not only do they refuse to accept his first bump, but then they discourage him from coming to a party at their place, explaining, "It's just going to be a bunch of young people."

Like any good youthful hepcat, Schmidt handles this rejection by turning to his real-time online actuarial service (just $49.95 a month!). It informs him that he's going to live to be 123, but it also suggests that Winston, as an African-American male on an unstable career path, may actually have died several years ago. So the two of them set out on parallel quests to recapture their youthful vitality: Schmidt by winning over the pan-ethnic, pansexual millennials down the hall, and Winston by finding and acting on his inner passion.

Both have role models within the apartment. Jess, it turns out, is surprisingly popular with the new kids, partly because they love casserole and partly because they believe she invented Urkel's catchphrase, "Did I do that?" And Nick, despite his outward immaturity, serves as career inspiration for the suit-wearing Winston because he's identified his great passion in life: pranking Schmidt.

Nick is a Sun Tzu of pranks, a master strategist skilled in the art of the elaborate ruse. He shortens all of Schmidt's left shoes by one-eighth of an inch so that he develops an old-man limp, carves out the inside of an easy chair so that he's forced to sit like a grandpa, and replaces his fiber supplements with a placebo so that he's always constipated.

The beauty of these pranks is their thematic cohesion: They work together individually but add up to a greater whole, not unlike the stories in Cloud Atlas. Winston would like to be such a brilliant prankster, a "Prank Sinatra," but he has trouble with scale. His prank suggestions either go too far (ski-bashing, acid-throwing) or not far enough (pouring juice next to somebody's shoe). This is actually not a bad metaphor for the problem with Winston in general. The past few episodes have given us Winston jokes that either feel too mild or too over-the-top. He might be a font of randomness, but he's not a psychopath, so why would he suggest throwing acid in Schmidt's face?

Unlike Schmidt, Nick, or Jess, Winston still hasn't developed a core persona beyond That Sensible Guy Who Sometimes Says Really Unpredictable Things. There's an outline of a character there, but he doesn't feel three-dimensional yet. Partly, this is the problem with unpredictability — since we don't know what to anticipate from him, it's hard to feel like we know him. This new job might be able to help. Producing a sports talk show that airs in the middle of the night should force him to deal with his uncentered post-basketball ambition, sort of the way that appearing on a morning news show honed a bunch of defining personality traits for Robin Scherbatsky in mid-period How I Met Your Mother.

Meanwhile, Schmidt is so desperate for the approval of the local youngsters that he actually asks Jess to teach him how to be cool — possibly tapping into her unused teaching skills, although the episode doesn't make a big deal out of it. Jess tells him to stop trying so hard, but he can't because he's Schmidt. Instead, he shows up next door wearing Toms, a scarf, and an ironic T-shirt, making the Sutton-Brory-Fife triad and floater Chaz even more uncomfortable.

Other things that make them uncomfortable: the wash-dry cycle and Jess's facility with the dishwasher. Note the implication that these kids have never cleaned their own dishes before, presumably because their helicopter parents won't let them. As they ramble on, a lightbulb goes off for Jess. "My life sucks so much right now," she explains later. "But at least I'm not 23." It's time for her to come clean, so she busts out her teaching skills yet again and gives everyone a history lesson in early '90s sitcoms.

A few minutes later, when Nick confesses to spending $1200 to $1300 on his Schmidt pranks (and still coming in under budget), Jess undergoes a similar moment of revelation: In some ways, she's the most mature person in the house, since she's the only one with a strong sense of personal purpose. Then again, she's also the only one whose iPhone has bunny ears. This isn't the first time that New Girl has reminded us that maturity is a fluctuating measurement. It's not a bar that you're either over or under—it comes to different people in different ways.

As someone who's roughly the same age as Jess and the guys, I almost want to bring in a recently-graduated ringer to report on how this episode looks through dewy twentysomething eyes. Obviously, the youth of the nation aren't all throwing artichoke-sitar parties. But, specifics aside, do you see yourself in these blasé loft rats?