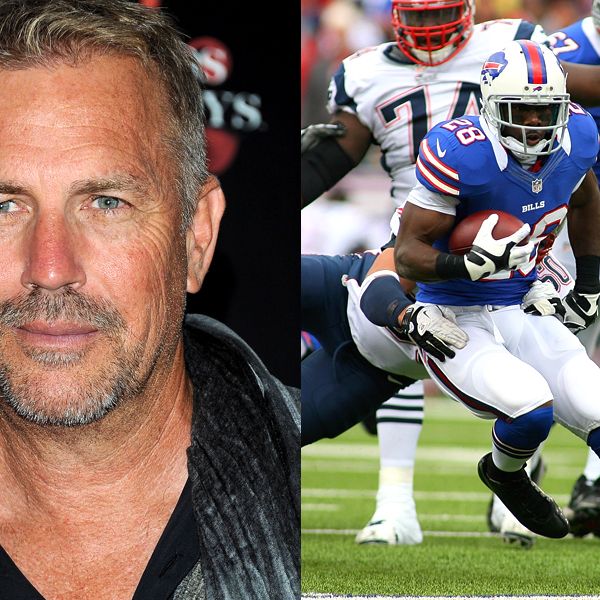 After years of giving Tinseltown the stiff arm, the NFL appears to be suddenly ready for a huddle. Sources tell Vulture that the league is on the verge of giving its usually difficult-to-obtain imprimatur to Paramount Pictures' Kevin Costner drama Draft Day. Furthermore, it has also been mulling the unusual step of taking a financial stake in the $20 million seriocomic film.
In Draft Day, which would be directed by Ivan Reitman, Costner would play a fictional general manager of the Buffalo Bills, perennially outgunned (and outspent) by downstate metropolitan behemoths like the New York Giants and Jets. Set over the course of a single day, it follows the GM as he parlays the first NFL draft pick (granted to the previous season's worst team) into a series of trades that burnishes the team's lackluster roster. Along the way, he must deal with his own family baggage as well as some surprising personal and romantic developments.
Produced by director Ivan Reitman's Montecito Pictures, Reitman's producing partner Tom Pollack stopped short of confirming the talks, but in an interview with Vulture allowed, "We do have indications that they like it."
For the NFL, this is unusual, to say the least. In 1999, director Oliver Stone sought — and was ultimately denied — the NFL's permission to use its teams' and players' likenesses in Any Given Sunday. The league nixed his requests when it learned that the film's star, Dennis Quaid, would play a second-string quarterback who had to be injected with painkillers. As a result, Stone used a fake team called the Miami Sharks.
Likewise, TV shows — even those that don't involve the NFL — have been crushed by the league's aversion to anything that didn't portray it in the best possible light. Talent agents tell Vulture that ESPN's 2003 gridiron drama Playmakers quickly disappeared from the cable sports network after the NFL voiced disapproval of its realistic portrayal of injuries, drugs, and players. (It's easy to see why: ESPN's current contract for Monday Night Football broadcasts runs until 2021 in a deal said to be valued at just under $15 billion.)
"Whatever they want, they get," said one agent, awed by the NFL's leverage with broadcasters.
Similiarly, ESPN's sister network, ABC, attempted to adapt the BBC soccer drama Footballers Wives into Football Wives, with director Bryan Singer in 2007. Though it tested well, the show's Desperate Housewives–style scandal-mongering meant it too never went to series, again due to the NFL's massive contribution to Disney's bottom line, insiders say.
"They are family entertainment and a business that is extremely lucrative," concurs Pollack. "This is major stuff, and they won't make a movie that isn't good for their brand or that doesn't appear to burnish its halo by showing drug use or concussions. We don't do any of that stuff in our film, but if I were the NFL, I wouldn't give permission to anyone who did that sort of stuff, either."
A deal that would place the NFL in charge of at least some of the Draft Day purse strings would be unusual and could be creatively challenging, according to one producer who's had to liaison between the world of professional sports and Tinseltown.
"I have had movies where the brand had approval," says Moneyball producer Rachel Horovitz. "But I've never done a project where a brand had an investment. It's usually the reverse, where you're giving them money for the right to use their brand. In all truth, they can make your life miserable — but in the case of MLB and Moneyball, it was creative, intelligent, and respectful, and everybody was equally excited about getting the story right."
Still, Horovitz observes, the NFL's myriad PR woes from the recent controversy over traumatic brain injuries as well as the ongoing kerfuffle over steroid use means any financial involvement could complicate its storytelling and open questions about its verisimilitude.
"There's a story here. But the answer to the question of 'Is it a problem [creatively]?'" Horovitz laughs, "is: 'Does Ivan Reitman have final cut?'"
Regardless of whether a deal comes off with Paramount (who failed to respond to multiple calls for comment), it will mark the second attempt at a Hollywood film deal in as many months for the NFL: Just last August, Variety broke the news that in partnership with the NFL, 24 and Sports Night executive producer Tony Krantz was shopping Week 14, a drama from Bull Durham screenwriter Ron Shelton about the final weeks of the NFL playoff season, to movie studios.
Reached by Vulture, Krantz declined to comment, referring questions about his film — reportedly to begin shooting in February, after the next Super Bowl — to the NFL, as did William Morris Endeavor, which represents the league in its dealing with Hollywood. A league spokesman, in turn, did not respond to a reporter's inquiry about the projects.
Clearly, here, as with so many Hollywood-related issues, the NFL still occasionally prefers to punt.