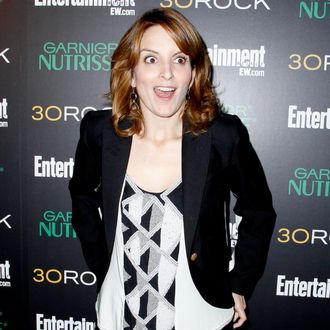 Photo: Jimi Celeste/?Patrick McMullan
We don't think anybody at 30 Rock was intentionally trying to tank it (!), but last night's seventh (and final) season debut of the series barely registered on Nielsen's meters. Thursday's episode was seen by 3.4 million people and averaged a 1.3 rating with adults under 50. This was the lowest-rated 30 Rock season debut ever, down 28 percent from the show's season-six premiere in January and off 24 percent from what Community averaged in the time slot. Keep in mind: 30 Rock tends to go up as much as 50 percent once DVR viewing is tallied, so these numbers are just a snapshot. Also, we kind of like the small numbers for 30 Rock at this point: It makes us feel part of an exclusive club of folks for whom the word homonym will forevermore be extra funny.
In other Nielsen nuggets, there was okay news for a couple of freshman dramas last night. Shawn Ryan's Last Resort (7.9 million, 1.9 demo) dropped about 20 percent from last week's premiere but still managed to outperform last fall's Charlie's Angels by around 50 percent. Solid DVR numbers plus strong viewership among dudes (which ABC has a hard time reaching on most nights) means ABC should be patient with the show. Over at CBS, meanwhile, Elementary (11.2 million, 2.6 demo) easily won the 10 p.m. hour again and was down a modest 16 percent from last week among viewers under 50.