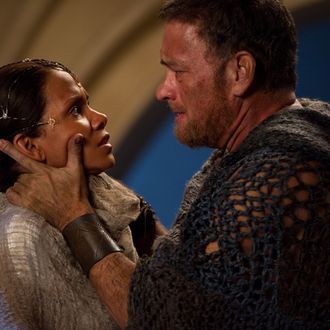 Photo: Jay Maidment/Warner Bros.
Every week between now and January 10, when the nominations are announced, movies and stars will help themselves — or sometimes, hurt themselves — in the Oscar race. Vulture's Oscar Futures will listen for insider gossip, comb the blogs, and out-and-out guess when necessary to track who's up, who's down, and who's currently leading the race for a coveted nomination.
Let's check out the chart:
Best Picture

Beasts of the Southern Wild
PGA members finally got their first awards season screener … and it's from this summer stunner. Smart move from Fox Searchlight, especially with much bigger movies coming down the pike soon.
Cloud Atlas
Reviews are wildly mixed: some are raves, while an equal number are full-throated takedowns. Passion isn't necessarily a bad thing when it comes to Oscar … but a weak box office forecast is going to tilt things in the con column.
Current Predix
Amour; Argo; Beasts of the Southern Wild; Les Miserables; Life of Pi; Lincoln; Silver Linings Playbook; Zero Dark Thirty
Best Director

Steven Spielberg (Lincoln)
Spielberg got a high-profile slot on 60 Minutes this past week, dropping one Academy-friendly quote about putting his action movie days behind him … even though he's gearing up to shoot the action-filled Robopocalypse. We're on to you, Steve.
Lana and Andy Wachowski, Tom Tykwer (Cloud Atlas)
Listen, after that bravura HRC video, we'd be content to let Lana Wachowski make all the acceptance speeches, forever. But it's not gonna happen here.
Current Predix
Ben Affleck (Argo); Tom Hooper (Les Miserables); Ang Lee (Life of Pi); David O. Russell (Silver Linings Playbook); Steven Spielberg (Lincoln)
Best Actor

Daniel Day-Lewis (Lincoln)
You know, it never hurts to have Time magazine declare you the world's greatest living actor in a big ol' cover story. You owe them a "thank u" text for that one, DDL.
Denis Lavant (Holy Motors)
Forget Cloud Atlas: Lavant takes on even more wildly varied characters in this French head-trip. Sadly, despite critical raves all year, box office was not boffo this past weekend in the film's opening frame.
Current Predix
Daniel Day-Lewis (Lincoln); John Hawkes (The Sessions); Hugh Jackman (Les Miserables); Joaquin Phoenix (The Master); Denzel Washington (Flight)
Best Actress
Jessica Chastain (Zero Dark Thirty)
Psst! Hear that? It's the sound of publicists whispering to awards season bloggers that Chastain is going Lead for Kathryn Bigelow's new film, and she's a real threat, too. We'll have to wait, though: Zero Dark Thirty may be one of the awards season's last films to screen.
Halle Berry (Cloud Atlas)
Good to find this Oscar-winning actress in a big, ambitious movie again, but she's not the standout in this cast.
Current Predix
Marion Cotillard (Rust and Bone); Jennifer Lawrence (Silver Linings Playbook); Helen Mirren (Hitchcock); Emmanuelle Riva (Amour); Quvenzhane Wallis (Beasts of the Southern Wild)
Best Supporting Actor

Robert De Niro (Silver Linings Playbook)
De Niro brought the house down this past week at the Hollywood Film Awards, where he joked, "I've gotten pretty good at giving out awards, but frankly, I've gotten out of practice accepting an award myself." Hint hint, Oscar voters.
Ezra Miller (The Perks of Being a Wallflower)
It's a shame that this strong teen movie was platformed to death: Miller's gay best friend is a major turn for the young actor, and he could have gotten some awards traction.
Current Predix
Alan Arkin (Argo); Russell Crowe (Les Miserables); Robert De Niro (Silver Linings Playbook); Leonardo DiCaprio (Django Unchained); Philip Seymour Hoffman (The Master)
Best Supporting Actress
Judi Dench (Skyfall)
Who's the female lead in Skyfall? Would you believe it's Dame Dench? None of the Bond girls get nearly as much screen time as Judi, who delivers her fullest, prickliest, and most emotional turn as M yet. Don't count out this Oscar favorite, especially in a weak category.
Kerry Washington (Django Unchained)
The Scandal star hasn't been given any dialogue in the previews, and her meaty subplot was cut when Sacha Baron Cohen fell out of the picture. Quentin Tarantino is good to his supporting actresses, but so far, we've got nothing to go on with Washington.
Current Predix
Amy Adams (The Master); Samantha Barks (Les Miserables); Sally Field (Lincoln); Anne Hathaway (Les Miserables); Helen Hunt (The Sessions);