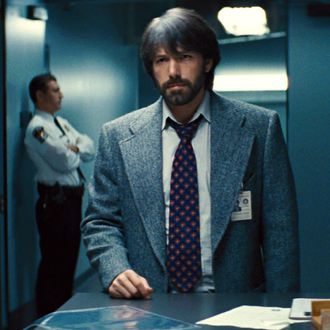 Photo: Courtesy Warner Bros. Entertainment
Every week between now and January 10, when the nominations are announced, movies and stars will help themselves — or sometimes, hurt themselves — in the Oscar race. Vulture's Oscar Futures will listen for insider gossip, comb the blogs, and out-and-out guess when necessary to track who's up, who's down, and who's currently leading the race for a coveted nomination.
Let's check out the chart:
Best Picture

Argo
Ben Affleck's latest arrives this weekend on a raft of rave reviews. As long as it can clear $20 million this weekend (giving it the appearance of a hit), Argo's awards season future should be secured.

Lincoln
The Steven Spielberg-directed biopic debuted at the New York Film Festival this week to fascinatingly mixed notices: People who you'd never take for Spielberg fans praised its restraint, while other Oscar pundits said it just doesn't have the oomph to win. It's a contender still, but no longer the frontrunner.
Current Predix
Amour; Argo; Beasts of the Southern Wild; Les Misérables; Life of Pi; Lincoln; Silver Linings Playbook; Zero Dark Thirty
Best Director

Ben Affleck (Argo)
This category will be tough to crack, since Affleck is going up against plenty of former winners and has veteran Michael Haneke to tussle with, too. Still, as plenty of insiders told us in today's Star Market, Hollywood is rooting for Ben.

Steven Spielberg (Lincoln)
Spielberg says he's still tinkering with the movie, but can he neutralize some of the pans? The normally good-natured Slashfilm was meh on the movie, while David Ehrlich called it "Spielberg's smallest movie in nearly 30 years."
Current Predix
Michael Haneke (Amour); Tom Hooper (Les Misérables); Ang Lee (Life of Pi); David O. Russell (Silver Linings Playbook); Steven Spielberg (Lincoln)
Best Actor

Daniel Day-Lewis (Lincoln)
Even the Lincoln naysayers can't quibble with Day-Lewis's performance. But is this category's trophy still up for grabs? We'll know more next week after we get a glimpse of Denzel Washington in Flight, in what's buzzed to be another powerhouse leading role.

Anthony Hopkins (Hitchcock)
Physically, Hopkins seems to nail it in the new Hitchcock trailer. But the actor, normally a gifted mimic, sounds too much like his Welsh self and not enough like the iconic Hitch.
Current Predix
Daniel Day-Lewis (Lincoln); John Hawkes (The Sessions); Hugh Jackman (Les Misérables); Joaquin Phoenix (The Master); Denzel Washington (Flight)
Best Actress

Helen Mirren (Hitchcock)
The last time Mirren played the long-suffering wife of a famous artist in a period piece, she snagged an Oscar nomination for The Last Station. If Hitchcock delivers – and Mirren's performance seems the spunkiest in the trailer – this Academy favorite could easily find herself back in the mix.

Mary Elizabeth Winstead (Smashed)
We worry for Winstead, who's beginning to hit the promo trail for her very fine work as an alcoholic in Smashed. The film may be too modest for Oscar, and Jennifer Lawrence appears to have the ingenue spot in this category locked up.
Current Predix
Marion Cotillard (Rust and Bone); Jennifer Lawrence (Silver Linings Playbook); Helen Mirren (Hitchcock); Emmanuelle Riva (Amour); Quvenzhane Wallis (Beasts of the Southern Wild)
Best Supporting Actor

Alan Arkin (Argo)
Critics are hailing Arkin as the standout in Argo's ensemble cast. Alan Arkin gets some of the best lines," writes the Wall Street Journal's Joe Morgenstern, "and he turns a smallish part into a thriller's antic soul."

Matthew McConaughey (Magic Mike)
The upside to McConaughey's current, shocking weight loss: It reinforces his serious-actor bona fides. On the other hand, it reminds voters that he has a more conventional Oscar role coming next year in The Dallas Buyers Club, and some may want to wait until then to reward him.
Current Predix
Alan Arkin (Argo); Russell Crowe (Les Misérables); Robert De Niro (Silver Linings Playbook); Leonardo DiCaprio (Django Unchained); Philip Seymour Hoffman (The Master)
Best Supporting Actress

Sally Field (Lincoln)
THR's Scott Feinberg calls Field a strong best for the category, and it doesn't hurt that the actress's emotional HRC speech went viral this week.

Scarlett Johansson (Hitchcock)
Her appearance in the Hitchcock trailer is all about T and A, and she's not even given a title card touting her performance. (At least she gets some lines, though, unlike Jessica Biel and Toni Collette.)
Current Predix
Amy Adams (The Master); Samantha Barks (Les Misérables); Sally Field (Lincoln); Anne Hathaway (Les Misérables); Helen Hunt (The Sessions)