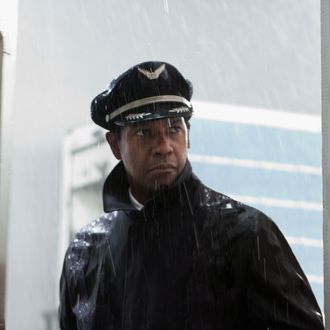 Photo: Photo Credit: Robert Zuckerman/? 2012 Paramount Pictures. All Rights Reserved.
Every week between now and January 10, when the nominations are announced, movies and stars will help themselves — or sometimes, hurt themselves — in the Oscar race. Vulture's Oscar Futures will listen for insider gossip, comb the blogs, and out-and-out guess when necessary to track who's up, who's down, and who's currently leading the race for a coveted nomination.
Let's check out the chart:
Best Picture
Les Misérables
Universal put the screenplay online for this season's perceived Oscar pace-setter … and it's very, very strong, with some wise additions and reshufflings.

The Master
Just as The Master's momentum began to dissipate, the film was hit by a double whammy of bad press: a hit piece about its unprofitability, followed by an attack on the Oscars as an institution from lead actor Joaquin Phoenix. Yeah, we'll get to that.
Current Predix
Amour; Argo; Beasts of the Southern Wild; Les Misérables; Life of Pi; Lincoln; Silver Linings Playbook; Zero Dark Thirty
Best Director

Ben Affleck (Argo)
Three weeks of Affleck on the ascendant in this category means we're ready to bump out Michael Haneke for the time being. It helps that the universally liked Argo stays so steady while other new contenders, though worthy, have their vocal detractors.
Robert Zemeckis (Flight)
It would be fun to see this category include two veteran, high-spectacle craftsmen like Steven Spielberg and Robert Zemeckis, but Zemeckis will need a Best Picture nomination to make the cut, and the mixed-positive reaction to screenings this week may make that difficult.
Current Predix
Ben Affleck (Argo); Tom Hooper (Les Misérables); Ang Lee (Life of Pi); David O. Russell (Silver Linings Playbook); Steven Spielberg (Lincoln)
Best Actor
Denzel Washington (Flight)
On the other hand, Denzel Washington is assured a nomination for his strong work in Flight, where he plays an alcoholic pilot in trouble after a crash landing. Can he win his third Oscar for it? Potentially, since this category lacks a frontrunner, in part because …

Joaquin Phoenix (The Master)
… Joaquin Phoenix clearly doesn't want the trophy. Pundits can't decide whether Phoenix's Oscar-bashing comments in Interview magazine will help or hurt him, but when your film is already ailing, it's probably not a boon, you know? And for all the comparisons to Mo'Nique, at least she had signaled that she'd actually show up to collect the Oscar; Phoenix couldn't care less, and that may matter.
Current Predix
Daniel Day-Lewis (Lincoln); John Hawkes (The Sessions); Hugh Jackman (Les Misérables); Joaquin Phoenix (The Master); Denzel Washington (Flight)
Best Actress

Helen Mirren (Hitchcock)
Mirren may benefit most from the power of surprise: Aside from comedic contenders Leslie Mann and Barbra Streisand, hers is the only significant female performance coming up in a movie that hasn't already been screened, since other perceived nominees were locked in long ago at Sundance, Cannes, and Toronto. Expect buzz to intensify in advance of Hitchcock's November 1 premiere at the AFI Film Fest.
Anne Hathaway (The Dark Knight Rises)
Warner Bros. noted this week that they'll run Hathaway as a lead for The Dark Knight Rises, so it won't be interfering with her highly anticipated supporting turn in Les Miz. Yeah, we weren't too worried about that one.
Current Predix
Marion Cotillard (Rust and Bone); Jennifer Lawrence (Silver Linings Playbook); Helen Mirren (Hitchcock); Emmanuelle Riva (Amour); Quvenzhane Wallis (Beasts of the Southern Wild)
Best Supporting Actor
James Franco (Spring Breakers)
The best news of all time this past week? Harmony Korine's gonzo Spring Breakers will get an Oscar-qualifying run pegged to Franco's awesome supporting performance. Now, obviously we will root hard for this. However, will Academy blue-hairs really spark to a film that opens with beer-drenched breasts bouncing up and down to dubstep? Our fingers are crossed, regardless.
Sam Rockwell (Seven Psychopaths)
There had been buzz for Rockwell's film-carrying comic performance in Seven Psychopaths, but the crash-and-burn box office nipped that in the bud.
Current Predix
Alan Arkin (Argo); Russell Crowe (Les Misérables); Robert De Niro (Silver Linings Playbook); Leonardo DiCaprio (Django Unchained); Philip Seymour Hoffman (The Master)
Best Supporting Actress

Helen Hunt (The Sessions)
Hunt is the biggest beneficiary of the warm reviews The Sessions is getting this week, and while we still maintain that this feels like category fraud, you can't deny that she's a strong possibility to go the distance here.
Kelly Reilly (Flight)
The little-known Reilly has a major role as the female lead in Flight and is a potential contender … but she's also handed most of the film's seen-it-before addiction tropes. Still, if the film overperforms, she could slip in.
Current Predix
Amy Adams (The Master); Samantha Barks (Les Misérables); Sally Field (Lincoln); Anne Hathaway (Les Misérables); Helen Hunt (The Sessions);