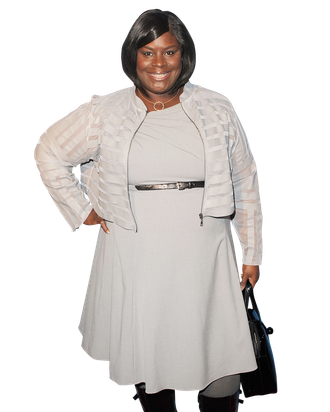 Retta Sirleaf.
Photo: Jason Merritt/2012 Getty Images
We're not quite sure what Parks and Recreation's Donna Meagle actually does all day, save treating herself and offering colorful glimpses into her sex life ("use him, abuse him, lose him"). However, Retta Sirleaf, the actress who plays her, prefers a more active life. Before landing her Parks and Rec role, she considered becoming an opera singer, graduated pre-med from Duke, was employed as a contract chemist for GlaxoSmithKline, and worked her way into the stand-up comedy scene. Intrigued, Vulture sat down with the actress to discuss vampires, her potential make-believe lover Joe Manganiello, and Aziz Ansari.
Let's just get this out of the way: How do you like to treat yo'self?
My obsession is TV and movies, so I order an obscene amount of DVDs. And I have an obsession with handbags. So once a year, I treat myself to a luxury handbag. I just bought the Louis Vuitton Déesse. The color is beige poudre.
Donna seems sexed up, but we never really see evidence of this. Will that change this season?
I think there might be … I don't know. I know that everybody talks about it, so I feel like the writers have to have [discussed] it. We'll see what happens.
Whom would you like to see Donna with?
Jean-Ralphio — that would be hilarious because she would run him. She would own him. She would be completely in charge. My idea would be that they have a relationship, but she forces him to keep it a secret. If he says anything, then she's done.
But I thought you told a reporter you'd want her to romance actor-model Boris Kodjoe?
[Sighs] He's so damn attractive. That'd be nice if he's one of Donna's love interests. But now I'm leaning more towards Joe Manganiello. He's the only [famous] person who reads my recaps [on Twitter] and told me he enjoys them. Hello? I want him to play Marcus the Fireman.
What did you think of his stripping skills in Magic Mike?
I wasn't mad at him [laughs].
Counting Joe, you currently have almost 65,000 Twitter followers, largely due to your hilarious TV-show recaps. How do you choose what to watch?
If it's something that I wouldn't expect to like, chances are someone made me watch it. Like, Vampire Diaries — I didn't watch until the second season. My friend said, "Just watch it." And I was totally hooked. She's into vampires, in general. She's the one who got me to read the Twilight books. Buffy the Vampire Slayer — I had a lot of friends who told me to watch it. And I was like, "I'm not buying seven seasons of a frickin' show." It got to the point where, "Seriously, you have to watch it." Buffy is not my favorite, but it's amusing. But I paid for it, so I'm going to watch it. But it's not my first choice. I like Vampire Diaries because it has great stories.
Where does True Blood fit into this?
I love True Blood because it makes me laugh. Like, Lafayette is one of my favorite characters on television.
Has NBC ever expressed concern over what you review or what you say?
[Laughs] No. I usually don't talk bad about the TV shows. If I don't like it, I'm not going to watch it. I mean, somebody asked me on Twitter, "What shows do you watch? Don't you watch Homeland?" Showtime PR saw that and sent me the season. And I was obsessed.
Name one TV show that people are not watching, that they should be watching.
Nashville is really good, really fun, and I don't know that it has great numbers. That, and Scandal. Scandal is getting really close, if not just past, The Good Wife. IT'S SO GOOD.
Explain how, as a kid, you wanted to be an opera singer.
That was the original plan: to be an opera signer. I was in chorus in grade school, and we learned classical [music]. I used to pretend to speak the different languages, like fake Italian. And my mother would be like, "Seriously, you need to stop."
You ended up working at GlaxoSmithKline. As someone with a background in pharm, what do you think of Obamacare?
I'm a fan of anything that helps the general public. So yes. But I left that behind when I started doing stand-up.
How hard was it to transition into stand-up?
I started once a week in North Carolina at a pub called Charlie Goodnight and met a lot of comics there. Then I moved to L.A., and if you're not known, it's hard to get stage time. So you start out doing what they call "bringers" — you have to bring five people if you wanna get on stage. It was a lot of hustle, a learning curve. But I figured it out.
What do you remember about The Jenny Jones Show, where you got your big break? She was a lightning rod for controversy back then.
She had a show with all female comics, basically a stand-up show. I never watched daytime television, but I knew who she was. I remember there was a controversy: One of her guests murdered somebody because his friend said he liked him but he wasn't gay. And that's basically all I remember — and her hair. Her hair was so big! I was glad to have that opportunity. It was the reason I got my agent.
Back to Parks and Rec, how much is Aziz Ansari really like his character, Tom Haverford?
I think Tom is the comic side of Aziz. He's not as cheesy or as corny or as self-obsessed as Tom is. If you've ever seen Aziz perform stand-up, you can see a lot of the Tom Haverford — that's where he gets the nuances for Tom. But with regards to the episode where he gets banned from using technology — Aziz does love his phone.
And you recently tweeted a picture of Christie Brinkley on set.
Christie is playing Gail Gergich, Jerry's wife. We were shooting last week. I always get nervous for people you don't know as an actor. But she is so game for everything. I sat there with my mouth agape — I can't believe she just did that! I can't say what, because I'm not sure if it's going to be in the show or not. But Jim loves to improv. Most people don't wanna look bad and she's like, "I don't care. Let's do it."
Speaking of guests, whatever happened to the singer Ginuwine, your character's cousin, appearing on the show?
I don't know — I don't know if they're working to get him on. I think he said he was game. But I'm not even sure if he watches the show.
What are the odds of Parks and Rec coming back for another season?
We don't know. Last season, we were like the last to find out if we were going to have another season. Who knows what's coming next?