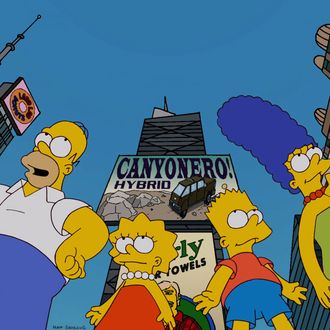 What clicked

God bless The Simpsons. Starting its 24th season, Fox's iconic comedy averaged 8 million viewers and a 3.7 rating among adults under 50, making it the second-biggest entertainment show on TV Sunday in the key demo. It will also rank as Fox's biggest comedy of premiere week, outshining New Girl and Sunday companion Family Guy (not that Seth MacFarlane is too concerned). Also doing well (but not spectacularly) that night: ABC's season-two debut of Once Upon a Time (11 million, 3.8 demo), which nudged Simpsons for the night's top demo rating among scripted shows. The network also did decently with Revenge (9.5 million, 3.2 demo), which was up sharply from its spring average on Wednesday nights (though only even with what the fading Desperate Housewives did in the slot last September). CBS's The Good Wife (9.8 million, 1.8 demo) actually beat Revenge in overall audience but wasn't even in the game among younger viewers, ranking fourth for the 9 p.m. hour. The Eye's newly relocated The Mentalist had a mixed night (10.8 million, 2.2 demo): It easily won the hour in viewers and improved on its lead, but compared to both its Thursday debut last fall and CSI: Miami's 2011 season premiere, it was down a tad. Oh, and lots of people watched football on NBC.
What didn't

Is it too late for ABC to beg the producers of Pan Am for a second season? Because, despite relentless promotion during Revenge, the new 10 p.m. drama 666 Park Avenue managed just under 7 million viewers and a 2.2 demo rating. Not only did the newcomer lose 30 percent of its Revenge lead-in, but it also finished down a similar percentage from the aforementioned jet drama. In fairness, Pan Am stumbled badly with its subsequent episodes, never matching its debut numbers. Compared to the hodgepodge of programming ABC stitched together to fill the 10 p.m. Sunday slot last season, 666 was actually up nearly 25 percent. (Oh, and we're betting on record ratings for the season-two premiere of Homeland over at Showtime, which aired last night at ten. Look for its ratings later today or early tomorrow). Meanwhile, the latest season of The Amazing Race (9.7 million, 2.5 demo) was the show's lowest-rated premiere ever among folks under 50.
Instant analysis

ABC gave its Sunday an extreme makeover, and the early results are … promising. Once and Revenge were among the buzziest new shows of last season, with the former a breakout hit. You have to think ABC boss Paul Lee went to bed last night dreaming of a sophomore surge, that millions of viewers would have caught on to his two newbies over the summer and then flocked to check out the Big Premieres. That didn't happen: While Sunday's ratings were solid, they broke no records, and as mentioned, both shows were actually down compared to their season-one premieres (when they were unknowns). Still, the first week of the season has been tough on most returning shows, with many down notably year-to-year. There's also evidence that more and more viewing is being time-shifted, with established shows getting far bigger lifts from DVRs than newbies. So, while the overnight numbers for ABC Sunday might not be eye-popping, they're hardly bad and even a little encouraging — particularly when you consider that CBS's Sunday lineup is rapidly aging and that Fox's male-skewing cartoons are not really a threat to ABC. If we had to bet, ABC's Sunday will look pretty much the same next fall (save for a new show at 10 p.m.), while CBS's will look radically different.