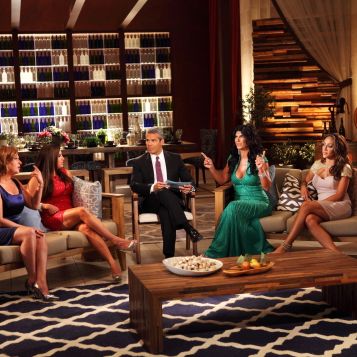 Once a year, right around Halloween time, a bunch of old hags convene to toss insults at each other and desiccate each other. This year, it is being hosted by Bravo's Andy Cohen. As Rosie hyperventilates backstage, calmed by LBHiG (Lap Banded Hag in Training), Melissa screams: "You don't get to play victim. Guess who the victim is? Me."
Poor Andy Cohen — except, who are we kidding? He's basically a Greek satyr reveling in the pandemonium — finally corrals the women in order to take a look at Rosie's coming out, both figuratively (from the closet) and literally (into the fray of the Borgata). Hey, purple looks great on her! Nice hairstyle and lip gloss, too. Good show, Rosie!
She reveals that the only reason Kathy expressed disapproval of her girlfriend in the past is that she was "leading [Rosie] down a bad path." God even knows what that means. ("Hey, Ro, sweetie, want to smash your head through this table? You'll get suchhhhh a rush.") As for those of you who were rooting for the quiet blonde she brought to Wakile dinner, Rosie is currently single, "for real." Teresa is playing an insane game of musical chairs depending on who she's pissed off the most recently. Caroline bullies everyone around her to realize that she's not a bully. She also divulges that she was rude to Caroline and Melissa on Tre's behalf, only apologizing much later. As a result, seeing her sister Dina at the Fabellini party, making nice with Tre, was "a knife in [Caroline's] heart."
Now we have a VH1 Behind the Music for Melissa's dabble in auto-tuning. I mean, flourishing career as a pop singer. Teresa challenges her to sing right then and there, and she does sing a few shaky bars of a song. "Ethel from Brookline" writes in to ask a question, and who in the genuine fuck is named Ethel anymore? Only in Brookline, you guys.
The real bomb drops: Melissa and Joe are selling their house to move themselves and their kids away from Tre's kids. This comes after a season of, as Andy Cohen puts it, "tenuous peace." Then the two have at it, which is sort of sad to see after they had been getting along well-ish. "Oh, so when you called me a gold digger, that was for America," says Melissa sarcastically.
"She wrote On Display about me!" screams Teresa. You can see the nuts and bolts in her brain rattling around.
Teresa squeals and prays on a tabletop and talks about getting the crazy out of her life with yoga. The crazy in her life, husband Joe Giudice, enters, moving more slowly and sinister than usual, if that's possible. Over the course of the half-hour, he burps, chugs a Red Bull against everyone's advice, and threatens his wife that he's going to pick'n'flick a booger on-camera. Every pause in his conversation is long enough to perfectly contain the phrase: "There's a dead hooker in the back of my car." Appropriately, we get an Audio/VideoAdultery Flipbook of Joe Giudice's past transgressions.
Joe Giudice spews some crap about how the infamous Napa phone call was to a "long-time friend" and how the word bitch isn't even in his vocabulary.
"I think it was the groaning that made everyone so skeptical," mumbles Melissa.
As for the slipping into Spanish, Juicy Joe justifies: "He put a Spanish pizza guy on the phone."
The scent of bullshit is now full-on wafting through the air.
"His money is his money and his money is my money," Teresa says. After she serves one at Jacqueline about a long-ago Chris Laurita infidelity, a fed-up Jacqueline unleashes the dragon. (Not like Sisqo's penis; just like a truth-bomb).
"To be honest, he calls her names and she calls him names and they punch each other," she snaps at Tre. "You walked in on your husband when he had somebody on the desk in his office." Apparently Danielle also saw Juicy Joe hanging out with a stripper. He denies it all.
Teresa clarifies that she doesn't think Melissa and Joe Gorga's marriage is fake, just that Melissa herself is fake ("You're an opportunitist (sic)"), as if that makes anything better.
"Why am I here?" wonders Joe Giudice aloud.
Just as we ask ourselves the same question, the episode ends. Next week, the remaining husbands join the fracas.