Ashes to ashes, dust to dust. To everything, there is a season. But platitudes don't adequately sum up the roiling mix of emotions we feel as we rejoin the ladies (accompanied by their husbands, sans Albert Manzo) at the Borgata for the last time tonight. Nothing — besides perhaps the disturbing and relentless Oranging of Andy Cohen — signifies the final installment of the three-part RHONJ reunion and subsequent end of season four more than this telling survey graphic. The party's over, folks.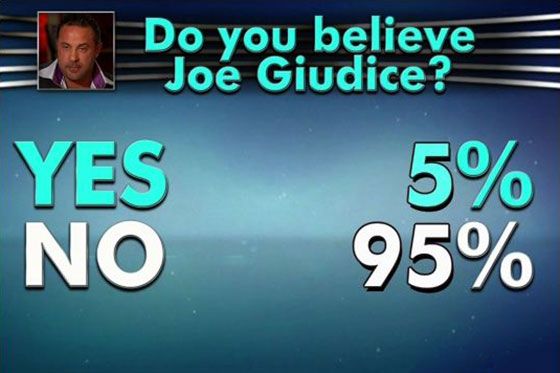 When asked, Juicy Joe* conveniently can't remember exactly what he said in Napa about the Guidices' deal with In Touch. His bare chest is featured in a montage. You ever notice that his torso kind of resembles the puffy grotesquerie of, say, Vince Vaughn's face? He also doesn't seem worried about his law trouble: "There's an old saying, a lawyer once said: You could indict a ham sandwich," he says sagely. Teresa accuses her family of speaking out of school to the tabloids about Ham Sandwich's arrest, and this segues into Jacqueline's accusation that Juicy Joe has been spreading rumors that Chris Laurita actually met her in Vegas, when she was a stripper and he was engaged to another lady. Hey, there are two ruined women on this show! It's like Tennessee Williams drunkenly farted in here.
"HE MET ME IN CHICAGO, YOU LOWLIFE SHIT," Jacqueline screams.
The rest of the husbands come out and we enjoy a montage of their exposed penises. Andy probes Joe Gorga and Joe Giudice about their rivalry, which began sometime in adulthood after they spent a childhood as close as cousins. ("That's gross. Don't say that," grouses Tre.) Naturally, discussing childhood, damaged relationships, and marital strife is a natural progression to discussing Richie's dick.
"My erection is a natural thing. My kids react to it, I tell 'em, 'How do you think you came into this world?'"
"Every morning, thank God," says Kathy, but sounding less than thrilled. "It's like my alarm clock."
My feeling on this: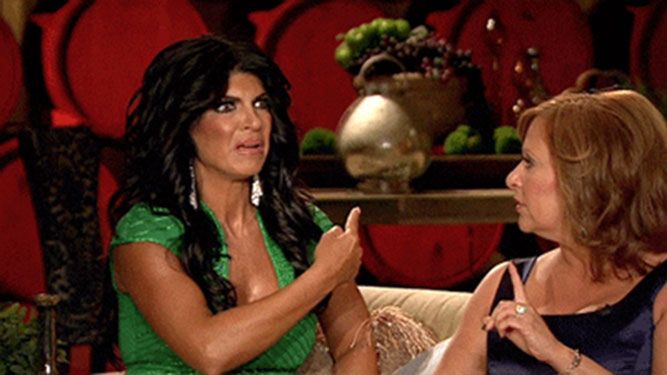 After the brief Q&A session, we're back to the same old fight over Joe Gorga's affection between Tre and Melissa. Joe Giudice continues to hassle Joe Gorga about his family finances and where he actually met Melissa. Chris Laurita* confirms Jacqueline's story about meeting in Chicago, but then Teresa accuses Caroline of having spread the Jacqueline stripper rumor in the first place ("We're talking about strippers like we're talking about serial killers," points out Chris Laurita, the only one with his head screwed on straight-ish).
Name-calling accusations become the issue of the hour. Joe Giudice slams Joe Gorga for not defending Tre's honor when she was being backstabbed. Pretty soon, Richie's under fire for that time he said that Tre should be burned at the stake, and he and Juicy Joe descend into Cro-Magnon insults about that time they had fisticuffs. Actually, that's a really generous description of what it was, considering a candlestick holder won. And now we're back to the crux of the thing: the events of the Posche fashion show that tore the Five Families as asunder as Joe Giudice's sphincter in the clink. Tre and Jacqueline have a dignified repartee.
"Kiss my ass."
"Kiss my titties."
"Your hard fake ones? No."
"You and your Botox fake face."
Kim D., the Iago to Teresa's crazed Othello, enters, and a Level 5 awkward silence descends on the room as Andy greets her. As it turns out, Kim D. was out for Melissa's blood because she promoted another, similarly named fashion line. Caroline calmly reminds Kim D. that, after the Posche show, she told the other Housewives that Teresa was in on it. Kim D. doesn't remember. That seems somewhat plausible, considering she clearly spent the night hoovering so much yay off the keys of middle-aged dudes from Secaucus that they started to blend together in a Vishnu-like eight-armed mass of American Eagle dress shirts and Axe Tsunami body spray. She admits that Tre didn't know precisely what was going to go down, but she knew something was. Nobody believes that Tre wasn't in on it, so she does what she does best: freak the fuck out, screech denials in a tone that only dogs (and Andy) can hear, and make crazy evil-eyes.
Chris Laurita has a solemn, Linus-from-Peanuts-esque moment when he informs everyone that none of this bullshit matters, really, but he only figured that out after Nicholas was diagnosed with autism. As we draw to a close, Caroline reminds the families that despite everything, they'll doubtlessly be sitting around a big table and yukking it up about all this: "There isn't this much pain without love." Word.
Annnnnd that's all she wrote! Going forth, it's important to remember it's totally normal to feel a phantom pain to hit at 10 p.m. every Sunday now that the show's over; I recommend freebasing three-cheese lasagna to numb the gaping emptiness inside. See you next year.
* This week, rumors surfaced that early in the Gorgas' marriage, Juicy Joe got his jollies (and gave Teresa acid reflux) by macking on Melissa: "He always complimented the way [Melissa] sings. He told her she makes the most beautiful pregnant woman. He complimented her style, too."
* Chris Laurita also happens to have been a regulation hottie once, going by this old-school picture with an unrecognizable young Caroline.