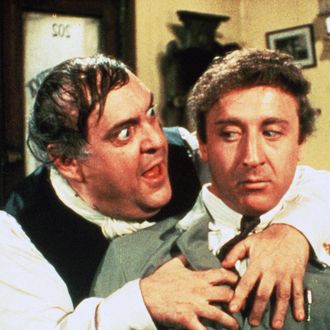 Photo: EMBASSY PICTURES / THE KOBAL COLLECTION
Yesterday the New York Times reported that the $12 million musical Rebecca, based on the Daphne du Maurier novel and set to open on Broadway this fall, was finally canceled. Over the last week, the Times' Patrick Healy had unraveled an increasingly bizarre story in which Rebecca's hopeful producer, Ben Sprecher (who had already been forced to cancel an earlier London production of the musical and push the New York opening from last spring), told investors that a promised $4.5 million had failed to materialize after the show's biggest single investor — a shadowy and quite possibly illusory presence named Paul Abrams — died suddenly. Of malaria. In Britain. Where, I am told, malaria kills millionaires by the score, every hot season. (Really, now: They ought to spray, or drape the wealthy in netting. Can netting be made fashionable? Tim Gunn, pick up your Batphone! Together we can beat this thing!) Abrams's "death" was unverifiable. There were no obits. A representative of the putative Abrams estate, identifying him/herself only as "Wexler," communicated gnomic brush-offs to the media via an e-mail address created just last month.
Me, I find this story hugely encouraging, and not because I'm a sniveling little Marxist who enjoys watching wealthy people lose their shirts. (Actually, I'm a sniveling little Marxist who hates it when shows don't open, because that generally spells bad news and cold ramen for a lot of actors, designers, and crew.)

With Mr. Sprecher now apparently under investigation and dark mumblings of darker plots being bandied about by his lawyer (stolen e-mails! hackers! UPDATE: Long Island ponzi schemers!), I need to precede my next statement with a disclaimer: In no way is what I'm about to say necessarily directed at or reflective upon Ben Sprecher, or anyone else living, dead, or terminally Anglo-malarial. With that said, I'd just like to take a moment to celebrate the fact that, despite an unfriendly economy and financial odds steeper than the private mountain where Mel Brooks built his Money Bin, there are still old-fashioned flim-flam men on Broadway. Here I'd been thinking the Great White Way had become far too risky and expensive for the small business crook. To heave a giant turkey onto the boards today, you generally need to gin up a crime of truly corporate dimensions, e.g., the bizarro money mill that is/was/will be Spider-man: Turn Off the Dark.

But no, the stereotype of the sharp-lapeled Broadway bullshit artist endures. And the crime — if crime it be to dream and dream badly — is purer, more beautiful than ever. Because, at these prices, there's no room for the cynical charlatan. Only a dreamer can get this far and fail this badly. Rebecca may prove that maybe the Max Bialystocks haven't been priced out by a post-Producers, post-Disney Broadway after all. The theater biz, decades since Times Square was sterilized and laminated, remains uncorporatizable, immune to ruthless Romneyesque efficiences, financialization, and scientific management. It's good old-fashioned, profligate, ego-deformed, hand-job-under-the-table American bad business, with a heaping side of balderdash; the whole thing is as fulsome and entangled as the ivy overgrowing Du Maurier's novel. Maybe we can go back to Manderley, after all — as long as there's a shifty figure with a song in his heart hanging around Shubert Alley, looking to sell us a burned-out husk and a beautiful dream.