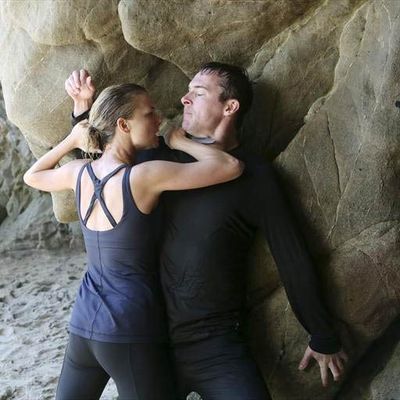 Remember actual jean shorts? They were the raggedy last stand of a proper pair of jeans, achieved with a pair of scissors and an eye for symmetry. In the nineties, a manufacturer cut out the middleman and began to simply manufacture denim shorts — that is, dad jeans that stopped at the knee. But as dads expanded, so did their shorts, reaching farther and farther down until they settled somewhere around the ankle. Jeans that had become shorts had become jeans again, this roomy hybrid unencumbered by the strictures of either predecessor. A similar evolution has given us Revenge.
The story of delectable Emily Thorne, a young, wealthy blonde with a serious ax to grind, has got the elements of a classic Bond thriller: a protagonist armed with endless financial resources, a knack for judo, and a sidekick who provides her with high-class IT. But ABC gave Revenge the best of its former hits' cheesy conventions: the loopy, intertwining flashbacks of Lost (complete with screechy crescendos and a downed plane); the muddled blood lines of Alias, in which everybody is somebody's secret half-sister; and the rigid hairstyling of Dancing With the Stars. But Revenge isn't content to plunder its own prime time. It plunges back into actual cinema to produce a straight-up, no-irony rip-off of Kill Bill. Beatrix Kiddo used a black Sharpie to cross names off her enemies list; Emily favors a red X. Same diff.
For those unfamiliar with last season's Revenge (or, like me, plagued by a late-night iTunes update), a brief recap-within-a-recap: Emily Thorne, a.k.a. Amanda Clarke, has returned to her childhood digs in the Hamptons to avenge the death of her father, an executive with the financial firm Global Grayson who was framed in a terrorist plot by its founder when she was a girl. Neutralized by Victoria and Conrad Grayson, the traumatized Amanda grew up partly in a juvenile detention facility*, from which she stumbled out in a black hoodie at age 18, and was then transformed into a butterfly through the auspices of tech-wiz Nolan Ross, whose company she apparently half owns. (Dad was a savvy investor.)
Now a Grace Kelly–esque heiress who speaks with the wry tone of a cosseted adolescent but also possesses a killer judo choke, Emily faces her old enemies down with the placidity of a lightly browned crescent roll. Topping her list are the Graysons themselves, her childhood beachfront neighbors, who are unaware of her real identity. She makes progress, but every iPad-enabled takedown of one enemy is stymied by an emotional step back of her own, as she falls again for her childhood friend Jack; gains feelings for Daniel Grayson, her fiancé pawn; has her actual identity stolen by her old psych-ward pal, the real Emily Thorne; and is mysteriously betrayed by the judo tutor, who had warned her before flipping her on the practice mat that "in a viper's nest, you must be a viper."
In the new show of the season, we again begin in medias res, the same players shuffled to different addresses. Charlotte, Emily's half-sister, has been placed in a strangely Victorian drug rehab center by her dad to prevent her from exposing his many crimes. She's still in contact with Victoria, who's camped out in a charming bungalow, giving info to the federal authorities about Conrad, who's downed yet another plane to get rid of her. Daniel, who's switched allegiances from Emily, is now with her winsome friend Ashley*, who has yet to reveal whose half-sister and/or paid spy she is. He's refusing to invest his mother's inheritance in his father's new company, even though Conrad is "lifting contingencies in the trust fund." (I want to remember that phrase, because no one is ever going to say it to me IRL.)
But most important for our heroine, Nolan and Emily have switched to uncovering the secret of Mom. They've again, as in season one, gone low-tech for the real goods, breaking into the Angel of Mercy hospital where Emily's mother was last seen, which was locked and unchanged since her death. Nolan proffers the last visitor's sheet in triumph; it still exists in pristine form. They strike gold on Mom's last visitor: her husband's former mistress, Victoria Grayson.
One day, It would be nice to have a show called The 47 Percent, in which an entitled, hoodied indigent exacted revenge on the actual one percent of the Hamptons for the collapse of the global market, armed only with her SNAP credits and a Cingular burner. But even Dickens needed wealthy characters to fund the growth of his tangled webs. (Literally, in Great Expectations.)
Now, the stakes — and the funds — are even higher. When a show enters official fed-informant land, it becomes doubly hard to follow the plot — who called who when to inform on whom they were taking revenge on for what? Is Victoria's bungalow in Japan? How did she disappear from the downed plane, and did the cast of Lost help? Why was Emily lashed to a pole in the ocean to retrieve memories of her mother's disappearance? Doesn't she have some illustrative video clip about that to watch in peace?
But I have faith in Emily — or, more specifically, Emily's and Nolan's tech array. With enough iPads, smartphones, and hidden cameras (including a newly christened "Clam Cam"), they are definitely going to be able to review the history of Emily's past life enough to wreak havoc on its current inhabitants.
* This post previously stated that Ashley and Daniel were engaged. They are not.
* This post previously stated that Emily/Amanda was in a psych ward. She was not.