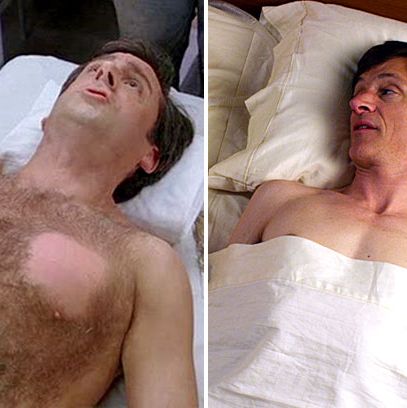 The Sessions, which opens today, is a tender, witty drama about a 40-ish-year-old poet (John Hawkes) paralyzed from polio. With the help of his friend, a priest played by William H. Macy, he attempts to lose his virginity to a sex surrogate (Helen Hunt). But if you strip away all of its indie flourishes and lack of jokes about balls and masturbation, it's the same concept as The 40 Year Old Virgin. Can you turn all of Judd Apatow's raunchy movies into Sundance bait with a few changes? Vulture decided to try, looking at his catalogue through an indie prism, using a Fox Searchlight flashlight.
Knocked Up becomes …
Shot Up, the story of when Ben (Paul Dano), a recovering heroin addict, lapses and has a one-night stand with Alison (Elizabeth Olsen). They never planned on seeing each other again, but everything changes when Alison learns she's pregnant. Ben must dedicate his life to helping Alison stay sober, despite not really knowing her and his own struggles with addiction. The film is a quirky, bittersweet, honestly felt romantic dramedy.
Funny People becomes …
PEOPLE., the story of Irene (played by Abigail Breslin wearing glasses), a 16-year-old piano prodigy who never knew her father. One night, after a performance, her idol, piano legend George Simonoff (Paul Giamatti) asks her to start opening for him on tour. George doesn't tell Irene that he's dying of cancer and suspects she's the child he had with the love of his life many years ago. It is a film about life, love, piano, and the mentor/mentee relationship. It's a bittersweet, honestly felt, quirky family dramedy.
This Is 40 becomes …
How Am I 40?, a film about an HIV-infected gay couple in their forties, played by Peter Sarsgaard and Sam Rockwell. They love each other very much but never really expected marriage to be an option. It's a story about two men accepting middle age after never being certain they'd live to see it. Alan Arkin (or Ed Asner, if A.A. is unavailable), in a supporting role, plays Rockwell's vibrant father, who lives every moment like it's his last. It's an honestly felt, quirky, bittersweet romantic dramedy.