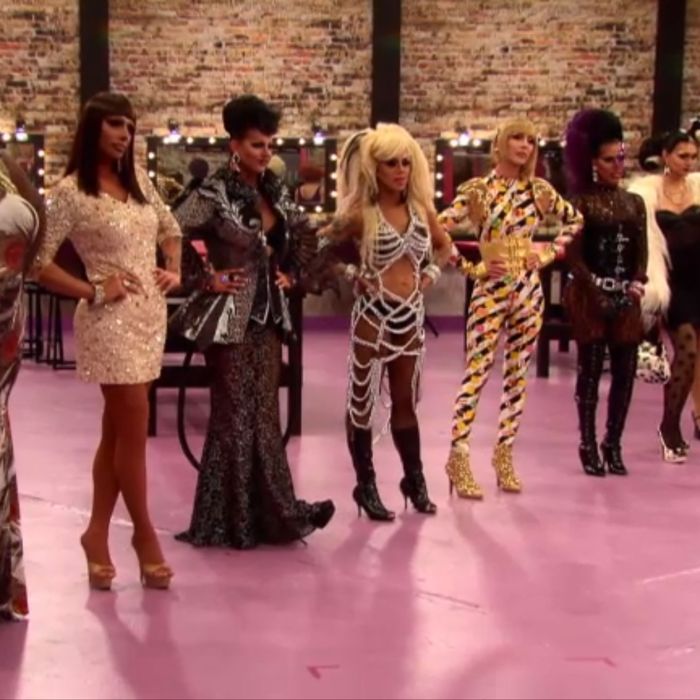 It seems so right that RuPaul's All Stars Drag Race would premiere on the night of the final 2012 presidential debate. After all, nothing quite matches the grotesque pageantry and exaggerated stage makeup of a political battle better than a gaggle of drag queens, and RuPaul's All Stars Drag Race is the Super Bowl of drag. In this outsize, overstuffed-sausage-casing of an episode, we meet the contestants (sorry, it's required) and get down to our very first series of eliminations!
We're introduced to the twelve all-star contestants back for another go. There's Pandora Boxx and crowd favorite Latrice Royale; wig enthusiast Yara Sofia, and Shannel; Raven, Alexis Mateo, and Manila Luzon (whose partner Sahara Davenport unexpectedly passed away a few weeks ago*); controversial Mimi Imfurst and Nina Flowers (in serious Grace Jones–at-the-rave gear); Jujubee (who enjoys long walks on the beach and fried chicken) and last season's runner-up Chad Michaels; and Tammie Brown, who appears to have downed a magnum of Chianti for breakfast.
Now that we've met the contestants, we can focus on our surroundings. RuPaul's drag mountain is decorated in only slightly fewer gratuitous pictures of himself then Tyra Banks's model castle. These two are keeping Glamour Shots in business. There's also a Tyra-like videophone, by which Ru beams himself in to harass and taunt his dragulous contestants. Supermodels are all alike.  
After introductory shade-throwing, RuPaul arrives in man drag, wearing deliciously unmatchy plaids. He begins by announcing the prizes: a wine bladder full of MAC cosmetics, a travel package furnished by gay travel experts AlandChuck.com, and $100,000 (which Jujubee notes "is, like, 500,000 chicken nuggets"). Girls, that could buy a lot of vinyl stripper clothes.
But first, the All Star twist (TWIST!): The contestants will be paired up and judged in tandem. If one fails, both go home. "The ultimate shade of it all," says Latrice Royale. Indeed.
The ladies size up the competition and pair off. Nobody wants to pair up with Mimi Imfurst on account of her being really crazy and major dramz. It seems the other queens aren't thrilled with her first Drag Race appearance, and there's also talk that she stole a job from fellow contestant Alexis Mateo — at a club in Florida, no less.
The teams eventually end up like this: 
        •       Team Latrila (Latrice Royale and Manila Luzon)
        •       Team Yarlexis (Alexis Mateo and Yara Sofia)
        •       Team Mandora (Mimi Imfurst and Pandora Boxx)
        •       Team Rujubee (Raven and Jujubee)
        •       Team Shad (Shannel and Chad Michaels)
        •       Team Brown Flowers (Tammie Brown and Nina Flowers)
Pandora is not happy to be paired with Mimi's drag leavings, and it's impacting her ability to properly bedazzle. Is there anything sadder than a sad drag queen? (No.) But Mimi pulls Pandora aside and tells her that they really need to be able to affix sequins to Lycra as a team. She promises to work as hard for Pandora as she will for herself. These two are my favorite inspirational movie-of-the-week.
Then Ru-Ru announces the first challenge — two photo shoots, the first of which is a "half-baked" shoot where the girls will pose in transition from straight to drag. They'll have to do each other's makeup, too, which is the drag equivalent of giving North Korea the keys to the Situation Room. And! Then there'll be an "opposites attract" shoot, which, sadly, does not feature M.C. Skat Kat. Instead, the girls are tasked with choosing an iconic set of opposites to represent. Once properly, oppositely outfitted, they are then required (inexplicably) to do the shoot in some swampy faux-black-rain, because of course. So much mascara mixed with so much faux-rain. As a special bonus, Raven gets buck naked, and there's a few seconds of full-on drag queen backside flashed on the screen.
After an electronic-cigarette commercial featuring Stephen Dorff (what?), we're back and ready for the first runway battle. Team Yarlexis are up first, dressed in … pictures of themselves? Next, Team Latrila, who choose a timely sparkly Teletubbies theme. For their walk, Team Mandora took a poll and chose the two most eye-gouging colors for their costumes — neon green and turquoise — while the Rujubees opt for a sophisticated Chicago send-up. Brown Flowers (ugh, I said it) go for Jackie Collins realness. And Team Shad does a boob-out Drag of the Mohicans theme.
Michelle Visage, Santino Rice, and Ross Matthews return to the judging panel — and are joined by supermodel Rachel Hunter. The judges vigorously critique the merits of each team and eventually dub Teletubbies fanatics Team Latrila best in show, with Team Rujubee coming up close behind (PUNS). The rest of the teams receive a vigorous critique from Michelle, Santino, and Ross, which is sort of like being licked clean by a passel of adorable kitten tongues. Team Shad and Team Mandora are on the chopping block and are required to lip-synch for their lives. Mimi Imfurst and Chad Michaels opt to represent their respective teams in a highly predictable battle of Paula Abdul's "Opposites Attract." (Skat Kat, where are you?)
Everybody knows the drag lord giveth and taketh away, and in the end, Shannel and Chad are given the "shantay, you stay," while Team Mandora — Mimi Imfurst and Pandora Boxx — say (another) tearful farewell. Sashay away, darlings.
Next week: The teams pull out their best celeb impressions, and Ru coaxes Vicki Lawrence (!) out of retirement.
* This recap incorrectly stated that Sahara Davenport passed away over the summer. She died in early October.