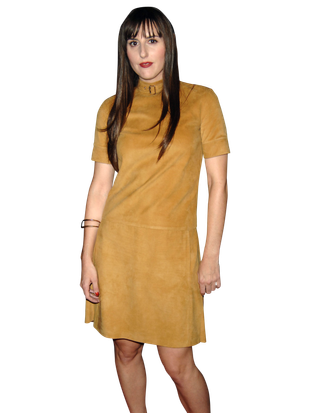 Ry Russo-Young.
Photo: DAVID CROTTY/? Patrick McMullan
Ry Russo-Young is comfortable on both sides of the camera: She acted in Hannah Takes the Stairs and directed You Won't Miss Me, starring her co-writer and pal Stella Schnabel — much like Lena Dunham, who collaborated on Russo-Young's latest directing effort, Nobody Walks. In the tense, quiet film, Olivia Thirlby stars as a young filmmaker who moves in with a Hollywood sound editor (John Krasinski) and his wife (Rosemarie DeWitt) and seems to seduce everyone in her path. Russo-Young chatted with Vulture about teaming up with Dunham, finding the perfect house to shoot in, and helping John Krasinski do his first love scene.
You and Lena have followed parallel paths [both attended St. Ann's and Oberlin, though five years apart] but somehow never met. How did you finally get together?
We met at a film-related party, through mutual friends, and I think after that we traded works. This was before she made Tiny Furniture — I saw a featurette she'd made in college — and I was just like, Wow, this is such an original voice.  She'd seen You Won't Miss Me and really liked it. So we just sat down and started riffing in terms of characters, and sort of from the beginning the idea was that we would write something together, and I was going to direct.
This definitely doesn't have the same voice as Girls or Tiny Furniture. How did you balance each other out as a writing team?
I mean, she was a joy to work with, and I think for her it was fun to know she wasn't going to make the movie [but] to write it and give it over to somebody else. I love the humor she brought to the movie and the wit and zing to some of the characters. I think that I … well, it's hard to think of your own skill set, especially with Lena you feel like, "I don't have any skills!" [Laughs.] But I think the visuals and nuance of there not being any bad guys — that's something I've always been interested in. Good people do bad things; people you thought were bad are ultimately sometimes the most redemptive.
The house you shot in is awesome. How did you find it?
[Laughs.] My worst fear is that someone is like, "Loved the house, hated the movie!" Because so much of the movie takes place in the house, it was a massive hunt from day one, and there were a lot of false starts, finding a house and loving it and the people backing out, or most of the houses didn't have pool houses — we actually built a pool house façade in the end, the inside was an art studio. There's a couple that lives there; they love the movie and have seen it several times now! They apparently shot a scene from Adaptation there, but it got cut. But I attribute us getting that house to our producer, Alicia Van Couvering. We were a week away from shooting, and the people got nervous and were about to back out, and Alicia went out there and saw a mezuzah on the door and was like, "I'm Jewish!" And she started talking to them about their daughter and being a Jewish woman, and [she] just saved the day.
Martine, Olivia Thirlby's character, seems to have this universal bewitching effect on both men and women. Have you met girls like her before?
Of course. I feel like I've always been fascinated by girls like that and wanted to befriend them even though I hated them, you know? Wanted to know, like, what they look like when they go to bed. Did they sleep in a perfect nightgown? There's something impenetrable about that cool girl and wanting to know her more intimately, but I also think there's something about that girl where she doesn't really know herself yet; it's like a layer of consciousness she hasn't quite entered, and that's what allows her questionable behavior, in a sense, because she's not thinking of other people in the way we'd like her to. We wish she was more self-aware — and I hope I was more self-aware at that age, but I'm not sure, in reality, I was.
John Krasinski has his first onscreen love scene with Olivia. How did filming that go?
He definitely let me know that early on. Olivia has done quite a few, but he was really nervous about it, I think. We didn't get a lot of rehearsal time — I think we did it twice — and the first one between John and Olivia and me, it just felt like this elephant in the room. I was like, how … about we … block the love scene? And they were totally down. I think because I come from an acting background, I have a tendency to really get in there, so I was literally like, playing the part of John, walking through it with him, putting him on my lap for a second, seeing how the arms would go, like A,B,C,D. Like, "Let me push you back on the desk … oh no, wait, push me back on the desk! Okay, that feels good. What about this?" in like, a classroom somewhere, with fluorescent lighting, the whole nine yards. Once we did all that together, it was a great bonding experience — but also, no one was afraid of it. And when they did the actual scene, they just killed it, I was like [gasps]. No one could breathe; I had my hands over my mouth. Totally felt like a perverted child. The cinematographer kept making this joke that two horny girls wrote this movie together.
How did you settle on bugs being the subject of Martine's film?
There's a filmmaker we knew, this beautiful girl who had made a documentary about bugs, and we thought she was so interesting: She was blonde and really appealing as a person and then would talk about kind of gross things, cockroaches and beetles, and really technically. We felt like that person was someone we wanted to explore. And bugs don't have emotions the way people do; bugs aren't going to be like, "You cheated on me! Go to hell!" It felt really right for Martine … Martine is kind of like a bug to me. And Olivia could look like a bug, I think, in a good way. A little bug!