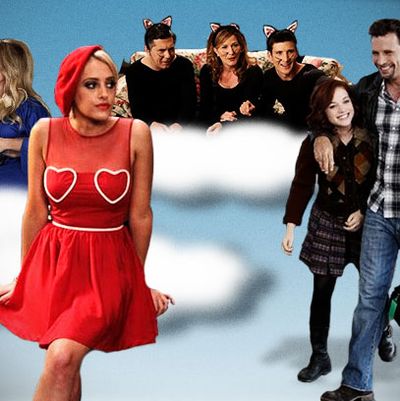 The story bombs went kaboom! at the end of Suburgatory's first season: Tessa found a way out of Chatswin and took a new interest in her estranged mom; George and Eden appeared doomed (albeit because Alicia Silverstone was only contracted for four episodes); and Lisa discovered that it was Ryan, and not her, who had been adopted by the Shays. Series boss Emily Kapnek tells Vulture she remembers cutting the finale together and thinking, "Wow, this is really traumatic." With all that aftermath about to hit (season two premieres tonight at 9:30 on ABC), Kapnek and series star Jane Levy give us the rundown on seven more surprises coming up:
George and Dallas are totally going to do it. The will-they-or-won't-they questions can stop now. "Creatively, all the writers wanted to see it happen," Kapnek says of the unlikely romance. "I hated feeling like viewers were being kept at bay. We've teased it for awhile. It just seemed like its own story-generating machine to have the two of them together." Dallas's life coach won't like it, but by episode four, they'll have already happily consummated the thing. And because it's Dallas, a choir will accompany the performance.
Tessa will give in to the Body. Ryan's affection for Tessa only stands to grow when they're both wondering about their birth moms. As for her feelings? "Ryan is definitely very into Tessa; he's not quiet about it," Levy says. "Tessa has always been attracted to things whether she likes it or not, but this year, I think she's gonna start to give in a little more."
Meanwhile, George will shave off all the hair on his body. He'll also go orange. Dallas's influence? Or is something else going on?
Sex, drugs, and violence to hit Chatswin! It could happen. Levy says she's heard Surburgatory's new 9:30 time slot means "we get one more 'bitch' and plenty more sex jokes." And Kapnek says when she got word the show would be airing after Modern Family, the first thing she did was swear. "I dropped some profanities," she says. "I just told the ABC executives on the phone it was my 9:30 self emerging,"
You won't hate Tessa's mom. Alex will drop by just in time for Thanksgiving, and she won't be bringing any mama drama. "We see Alex as someone who's very playful, someone who never really grew up and probably felt a lot of anxiety about being a mom," Kapnek tells us. "She's hoping with Tessa being a little older that they have an opportunity to connect on a different level."
Rachel Dratch will stalk Tessa. The SNL alum will play the Witch of East Chatswin. How she manages to creep out the Über-cynical Tessa? "I walk into her house and there's like seven people in cloaks hovering around a cauldron and chanting," Levy says.
"Pleasant Nightmare" revealed. Watch for one of the main characters to perform Suburgatory's theme song in the premiere, including all the words that come before last night I had a pleasant nightmare na na na naaaa na na na na. The whole thing's rather sweet.