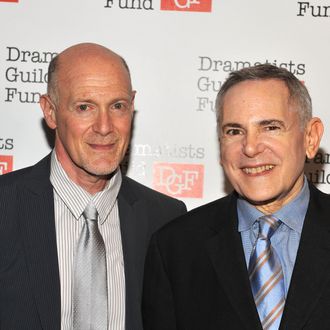 Neil Meron and Craig Zadan.
Photo: Fernando Leon/2012 Getty Images
Craig Zadan and Neil Meron, executive producers on Smash as well as a slew of movie musicals like Chicago, 1999's Annie, and next year's Oscars, are developing another hour-long musical series for NBC. The untitled project will be about "a 30-something songwriter who has written the most epic love songs of our time, despite, or perhaps due to the fact that she is painfully unlucky in love," Deadline reports. The show will feature the music of Diane Warren, who has written some of the most epic love songs of our time (Celine Dion's "Because You Loved Me," Toni Braxton's "Un-Break My Heart," Aerosmith's "I Don't Want To Miss A Thing") and, while perhaps not unlucky in love, has indeed never married. Warren's songs will be integrated in a more organic, less stop-everything-and-sing-and-dance fashion than Smash.