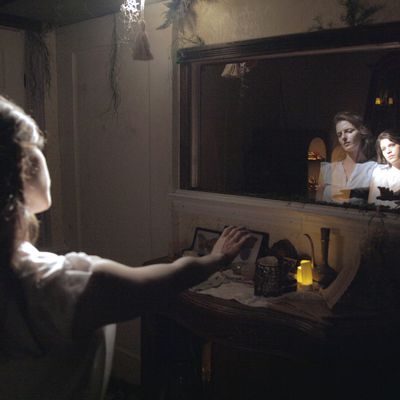 House for Sale
Compared to director Daniel Fish's last onstage grapple with contemporary mega-prose — a two-and-a-half-hour decomposition and recomposition of the classic David Foster Wallace essay "A Supposedly Fun Thing I'll Never Do Again" — his theatrical adaptation of Jonathan Franzen's "House for Sale" is downright trim at less than 100 minutes. I didn't see Supposedly, but secondhand accounts of it usually included the word challenging, and House is similarly exhaustive in its attempts to defeat the literal and the linear in search of the real author behind the defensive ramparts of style. Five actors recite Franzen's personal history of Gen-X dispossession and depression — centered on his struggle to sell his late mother's house, the house he grew up in — with organ interludes, film clips, and a lot of stuff that looks suspiciously like acting exercises. (The first fifteen minutes consist of rather joyless mental conditioning and formal inquiry; reset your REM-cycles accordingly.)
The show gets to you over time: Polly Pen's music connects on a theta-wave level, and Laura Jellinek's dismembered, here-to-breakfast set cleverly suggests church basement, suburban weariness, and hospital waiting room all at once. But it's hard to tell if the essay "House for Sale" is being dramaturgically revivified by House for Sale, or if it's merely succeeding in spite of it. Franzen, unlike Wallace, is not a mystery, and he's not communicating in code. He writes linear and literal, with plainspoken pride. He's not simple, exactly, but he is fairly direct, packing a point of view so internally consistent that it borders on the smug. Sometimes Fish merely piles on with his own strenuous archness. (A running Disney motif, in a piece about American decline, feels simultaneously too easy and effortful.) Sometimes he lunges at Franzen's dour middle-American matter-of-factness with a sledgehammer and is deflected about as often as he lands a splintering blow. The fight is an honorable draw.
House for Sale is playing at the Duke on 42nd Street through November 18.
Wild With Happy
Colman Domingo (The Scottsboro Boys) turns semiautobiographical playwright in Wild With Happy, a romping road trip through the stages of grief. Gil (Domingo) — a black, gay, cynical, Yale-trained out-of-work actor — has lost his doting mother (Sharon Washington), his most stable lifelong relationship and his partner in fantasy. Summoned from New York to Philly to dispose of her body and personal effects, Gil finds himself facing down a phalanx of sitcom-ish clowns that populate many a death comedy: a meddling relative, Aun Glo (also Washington); a New Age–y funeral director and unlikely love interest (Korey Jackson); and a queenier-than-thou best friend (Maurice McRae). Things get animated fast and stay that way throughout. (Just as in House for Sale, death and Disney are gleefully juxtaposed in a late-act coup d'theatre, although here, the results are far more fairy-dusted.) Wild With Happy, under the direction of Robert O'Hara, unspools unevenly as a string of emphatically delivered taboo-tweaking knee-slappers that keeps getting knotted up in plotty nonsense. It's performed broadly but sincerely, and the pain it displays is nothing compared to the pain pooled beneath its day-glo surfaces. Even in the theater, we have so few stories of the modern, gay, middle-class African-American experience. Wild may not be life-changing, or even all that death-defying, but there are worse ways to spend an evening than hitching a ride with Domingo's rollicking funeral cortege.

Wild With Happy is playing at the Public Theater through November 11.

Then She Fell
Did you enjoy Sleep No More? But next time you'd like a little more guidance? Then She Fell is an immersive theater experience installed in an abandoned Williamsburg, Brooklyn, hospital. Where Sleep had Macbeth as its touchstone, Then enlists the oeuvre of Lewis Carroll. The puzzle-solving is a little underdone: There's really no time to rifle through all the scraps of paper and locked cabinets that have been easter-egged throughout this creepy post-medical space. (There's just not that much story to ravel out, really: Genius loves child, in ways not entirely explicable or excusable by the standards of modern mores. Genius dedicates beautiful masterpiece to child, labyrinthine ode to presexual youth … which becomes his own prison. Genius is, mercifully yet tragically, separated from child.) But the athletic, parkour-ish dancing and the general atmospherics are spot-on. (A violently choreographed tea party, with furniture poltergeist-ed around the room by perfectly coordinated dancer-actors, is particularly effective.) The theme of the night is unrequited love and the wasting disease of disappointment, also known as aging. The audience is small, and it gets smaller as the night progresses: Your group is winnowed and winnowed until you're alone, at the mercy of the inmates in this strange asylum. (Theatergoers will notice a dash of John Doyle's Sweeney Todd concept.) Then She Fell is unrepentantly derivative of its forebears, but it's also well done, another sexy-spooky haunted house for dreamy grown-ups and children who read too much. I haven't hit my limit on these. Keep 'em coming, specially this time of year.

Then She Fell inhabits the Arts@Renaissance space at 2 Kingsland Avenue until Nov 18.