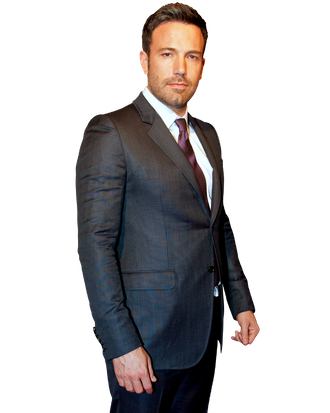 Photo: Leigh Vogel/Getty Images
Hollywood loves a comeback, and right now, Ben Affleck is feeling that love. The 40-year-old has experienced some of the highest highs and lowest lows that stardom has to offer, but he's managed to reinvent himself in recent years as a top-shelf director, and this weekend sees the release of his most accomplished work yet, the fact-based period thriller Argo. Affleck also cast himself as the lead in the movie, as he did in his last directorial effort, The Town; it's fair to wonder, then, if some of the shine from his new career is reinvigorating his old one. To find out how well his plan is working, we polled industry insiders to ask one simple question: If Ben Affleck were a stock, would you buy, sell, or hold?
Stock History: After small roles in movies like Dazed and Confused and Mallrats, Affleck popped in 1997 with a leading-man role in Kevin Smith's hit indie Chasing Amy and that year's Good Will Hunting, where he played a supporting role to Matt Damon and won an Oscar alongside him for writing the script. Affleck was the first of the duo to really take off in Hollywood, and he began with a smart "one for them, one for me" plan: In 1998, he made a brainless studio blockbuster in Armageddon, but he also took a smaller comic role in Best Picture–winner Shakespeare in Love. The next year, he went the rom-com route with Sandra Bullock in Forces of Nature but turned up in Smith's next film, Dogma, too. It was a good strategy … but, sadly, short-lived.
Affleck spent the next few years chasing the mainstream, picking misbegotten vehicles like Paycheck, Jersey Girl, and Surviving Christmas, all of which whittled away at his nascent star power. 2003's Gigli was the most notorious of his bombs during this period, thanks to his high-profile relationship with Jennifer Lopez, but even Affleck's attempts to line up a franchise — the safest play for a young leading man in the modern era — didn't take, with Daredevil and The Sum of All Fears proving to be one-and-done nonstarters.
But there was a second act to come. In 2007, he directed the well-regarded Gone Baby Gone, but it was his work helming (and starring in) 2010's The Town that really put him back on the map. He'll still take for-hire acting gigs in ensemble films like Extract, The Company Men, and He's Just Not That Into You, but Affleck now appears to be prioritizing the films he makes himself, and they're good ones: the kind of mid-budget, tense action-dramas that have otherwise been squeezed out of most studios' superhero-heavy slates.
Peers: Affleck used to have them, but these days, it's tough to say who is really an acting peer, thanks to his rebirth as a gold-plated director. One top talent agent explains, "As an actor, his peers are not necessarily contemporaries: Kevin Costner (57) is the Ben Affleck of his generation. Ben's not quite as good as Woody Harrelson (51), who's matured into a great actor. And I don't want to use the word oafishness, but he doesn't have the alacrity of Matt Damon (42), either. Colin Farrell (36) is right there with him. Chris Pine (32) is headed there."
Market Value: In his heyday, Affleck had a string of notable successes: Good Will Hunting grossed $138 million, while Bay's Armageddon earned just over $200 million. Even some of his lesser-regarded movies were nine-digit grossers, like Pearl Harbor (which came up just shy of Armageddon's total) and Daredevil and The Sum of All Fears, with each surpassing $100 million. But when Gigli cratered at a miserable $6 million, the party was over, and a few years later, when Affleck's Surviving Christmas stalled at $11 million — which wouldn't even be a good opening weekend total for an A-lister, let alone a lifetime gross — his best days were clearly behind him. Maybe he just needed to find the right director. In this case, it was himself: Affleck added a potent $92 million grosser to his CV with The Town by casting himself as the lead.
What Hollywood Thinks: This is a propitious time to assess Affleck, but not just because his highly regarded Argo is opening. No, it's also the right time because of what happened this week: Affleck took a job as "just" an actor in the Warner Bros. romantic comedy Focus, playing a charming grifter à la George Clooney in Out of Sight. The deal is especially noteworthy because working as a leading man was an avenue that had all but closed to Affleck until he engineered a second act for himself as a director.
"After The Town, he could do anything he wanted at Warner Bros.," says one agent. But there was a catch to this newfound success. As another motion-picture literary agent at a different agency observes, "The world loves him as a director first, star second." Even with his golden status on the Warners lot as a director, Affleck was not the studio's first choice for Focus or even its second. Most recently, the offer went out to Brad Pitt, who passed. But the fact that the next stop on the list was Affleck is telling, says our talent agent.
"It's not like they flipped it to someone else at CAA — and there's a million people you could have gone to from Brad Pitt before you sent it to Ben, who's at William Morris Endeavor," explains this agent. "The studio clearly wanted him."
Indeed, the head of production at a smaller, rival studio agrees and says that as an actor, Affleck "has some heat on him" and that after several years in the wilderness living down Daredevil, Affleck would be "great in some branded IP [intellectual property], say, as the new Iron Man or something like that. You could visualize that and think he'd be awesome in that."
But this studio production chief is quick to note that Affleck doesn't yet trigger a green light on just any size picture. "From $45 million to $55 million, sure. But after that, you need some other stars, people with real foreign value."
One producer notes that Affleck, either by preference or by strategy, has been shrewd about the limitations of his star wattage, "keeping himself in a space where he's only doing movies of a size that support him as a star. Warner Bros. wanted him to do Justice League, in which he could have taken a part, and he still passed. I think he knows he's got this second life again [as a director], and what's more, he's good at it."
A third talent agent agrees, saying, "He's starting to become meaningful again because he's on all the hot director lists [with] Juan Antonia Bayona (The Orphanage), Nicolas Winding Refn (Drive), and Derek Cianfrance (Blue Valentine)."
The Analysis: As our producer says, "Maybe we have the next Clint Eastwood on our hands — he just won't talk to the chair." Sure, Affleck is early into his directing career — Argo is only his third movie behind the camera — but the comparison is apt: Both actor-helmers are in-house favorites at Warner Bros., where they reliably turn out mid-budget dramas with terrific performances and no shortage of marketing-friendly gunfire. And though Affleck's been offered all sorts of directing gigs at the studio, from Justice League to The Stand, he seems to be sticking to a niche that's working for him: Just this week, it came out that his next film will most likely be another crime drama, Live by Night, by Gone Baby Gone author Dennis Lehane.
So, his future as a director is assured … but what of Affleck, the actor? Prior to committing to Focus (a comedy written and directed by the Crazy, Stupid, Love. team of John Requa and Glenn Ficara), Affleck had been flirting with Bastille Day, an indie about a young artist and a former CIA operative who embark on an anti-terrorist mission in France. We're told he's dropped out of that film entirely, though he's got another indie coming up opposite Justin Timberlake in the gambling drama Runner Runner. And while he's been marginalized in the final edit of Terrence Malick's To the Wonder, you can at least understand why he signed on to the project. Dare we hope that Affleck's back to that strategy of alternating mass-appeal movies and smart indies, which once worked so well for him?
In any case, goodwill abounds toward Affleck, and the town's industry crowd is rooting for him to succeed. As the head of one talent agency put it, "I think he likes being a leading man … in his own movies. I don't know where his head's at, but he's a really, really fucking good director, and for now, that's enough."

The Bottom Line: It's terrific that Affleck has reinvigorated his acting career by becoming a director, but he shouldn't lose, well, focus. We're heartened that he's using Argo's great advance buzz not simply to line up his next starring role but to settle on his next directing project too. If concentrating on jobs behind the camera will mean he works a little less as an actor, well, there's nothing wrong with Affleck becoming choosy, especially after the erratic career he's had. Keep on doing what you're doing, Ben. You're on the upswing.

Buy/Sell/Hold: A strong Buy for the total package and an Outperform as an actor.